Key Tips and Resources Before You Start Forklift Operations
November 23, 2022
Forklift operation can be dangerous if pre-checks are not conducted, and the proper precautions are not taken on the jobsite. With all the moving parts in operation its key to be aware of the following factors before you start working on site with your forklift.
Operators must be trained and certified prior to using any forklift equipment
Operating forklifts in Canada requires the appropriate training to be in line with CSA Standards (B335-15) and updated at least every three years. Additionally, if the forklift is to be used on public roads the operator must have a valid driver's license. To become qualified, you must score above 80% on a written test and practical demonstration. Not only is the training mandatory but it can also help you stay safe and efficient when operating forklift equipment. When dealing with certain hazardous materials the driver must also have the appropriate certification to handle these items from the respective accrediting boards.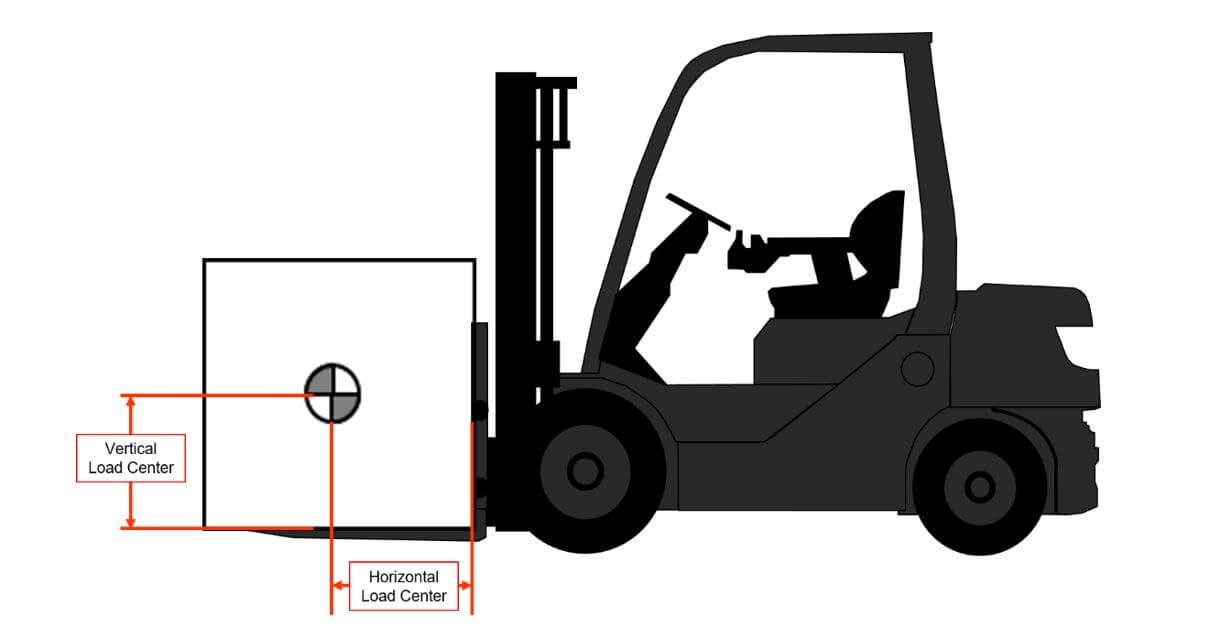 What class for what task?
When starting out it's important to recognize what type of machinery you would be needing to operate for the tasks you intend to complete. Forklifts come in different shapes and sizes all with different uses and classes that require their own training:
Class 1: Electric Counterbalance, zero emissions capable machines for standard lifting inside or outside.
Class 2: Electric Narrow Aisle Reach Forklift, best for narrow aisles or tight spaces like warehouses.
Class 3: Electric Pallet Jack/Rider/Stacker, designed to lift only a few inches off the ground, this work best for unloading or loading vehicles.
Class 4: Internal Combustion Engine Counterbalanced Forklift (W/ Cushion Tires), due to the tires this class is great for use indoors on smooth ground to handle heavy loads.
Class 5: Internal Combustion Engine (w/ Pneumatic Tires), due to the tires this class works best outdoors on rough surfaces and is a versatile machine for lifting loads.
Class 6: Electric and Internal Combustion Engine Tow Tractors, mainly used to tow rather than lift loads.
Class 7: Rough Terrain Forklift, Tele Handler, due to their specialized design these machines require additional training for operation.
Some classes may be put together, for example when completing your assessment to become qualified on Class 1 machines you will additionally be entitled to operate Class 4 and Class 5 machines too. To renew your certification or to get yourself certified for the first time, check out the training services offered by Westerra Equipment. We offer using a mix of learning methods to help you learn how to operate any Class 1 to Class 7 forklifts as well as other machinery like lift equipment. We can get you certified or re-certified and working in no time!
Be aware of the terrain and appropriate tire types
There are several distinct types of forklifts for different jobs as well different tire compounds. The use of the correct tire compound can improve job completion success and safety. Solid, pneumatic and cushion tires can all provide unique benefits depending on the task at hand. Solid tires are used indoors and have no tread, they're long lasting and do not puncture or go flat. This is perfect for warehouse needs and indoor use where ground surfaces are flat and dry. For more rigorous material handling tasks, cushion tires are used both in and outdoors and are made of a solid rubber with tread being made of soft rubber to smoothen ride quality. Finally, pneumatic tires are best for outdoor use as they can be filled with air, nitrogen, liquid, ballast or even foam to keep the ride smooth and avoid tipping when carrying loads enabling the ability to travel over tough outdoor terrain without risking goods.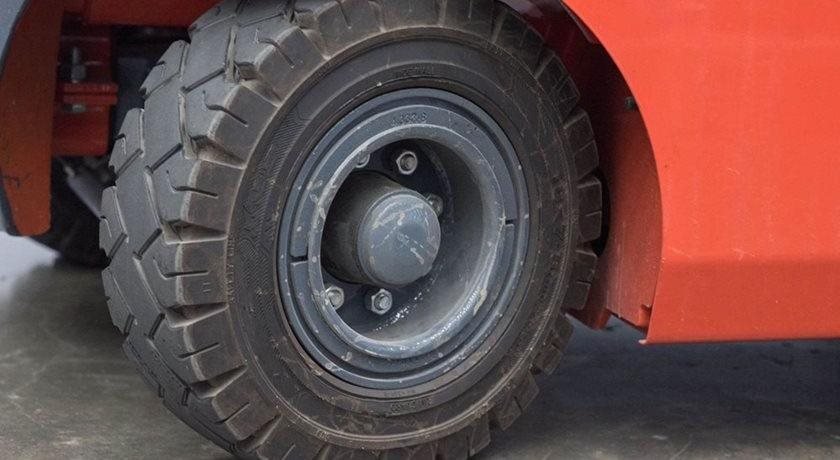 Operators should know their machines and intended load
It is important to check the capacity of the forklift and the weight of the materials before loading. Each forklift has a unique lifting capacity thus the max weight should be known to avoid over-loading or tipping the capacity of the machine. Any required straps or attachments should also be used if required to secure the load. A machine rated to carry a certain weight would be able to do so given the load is placed appropriately. Carrying capacity, central load point and more key information can be found on the machine data plate. This plate will often inform you of: Mast type, tire tread, the machine's brand, model, serial number, forklift type as well as weight and load info but varies depending on machine brand and type. For help with how to find your machine's data plate, consult your manufacturer's equipment guide for where it may be located as it is not always placed in the same location. For Clark, Doosan, and Linde machines these plates are typically placed next to the equipment controls or around the seat area inside the cab.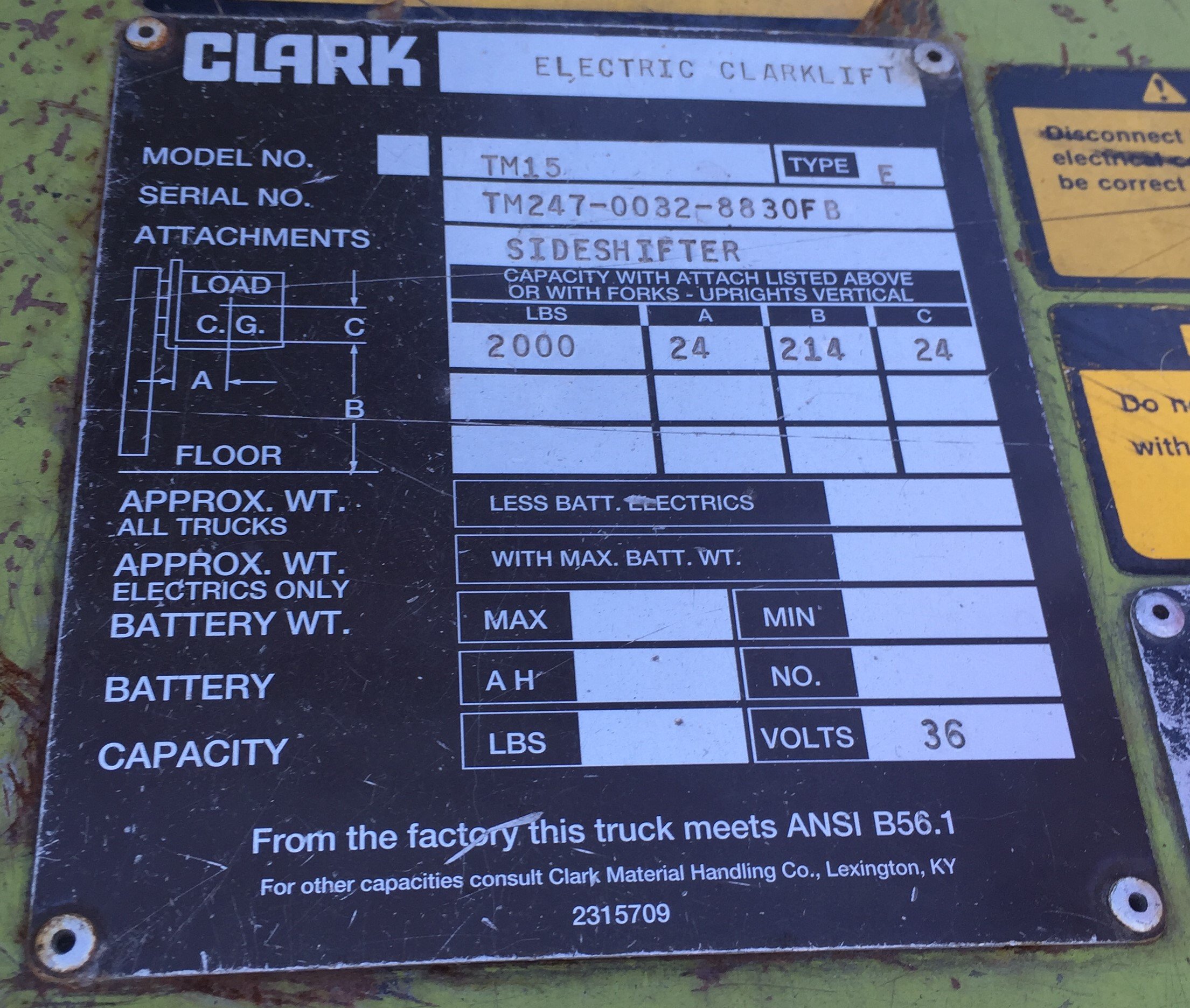 If you attempt to pick up maximum load while placed inappropriately on the forks this would cause the forklift to tip forward on its forks or the load to fall off the sides. The point of placement for the load should be on the load center. Additionally, be sure to practice safe operation keeping forks low and tilting loads on the backplate to avoid falling loads.
Internal combustion engine or electric. What's the big difference?
With the growth in popularity and capability of electric forklifts it's key to note is what type of machine you intend to use for your workload. Between ICE, electric and forklifts of certain ages there are some features, and mechanisms can differ from seatbelts to your internal fluids. For example, with electric forklifts the nature of the internal battery would change some aspects of your pre-checks for fluids and charging/fuelling procedures which you would need to be aware of. Be sure to ask your training instructor what things to look out for if you know you're going to be using a different kind of machine to that being used for your practical demonstrations and assessments.
Conducting Pre-Checks and Keeping your forklift in good condition inside and out.
Due to regulation and for the safety of yourself and others, you must remember to conduct a pre-use inspection of your forklift before operation. This can be easily done using a set checklist (See below) to review before job start that is catered towards your specific machine type and brand. This inspection should reveal any malfunctions or issues before operation and gives you a chance to use an alternative machine if available or to act on these issues before starting the job at hand. This check would include assessing aspects like the functionality of the mechanisms as well as the conditions of your machine inside and out.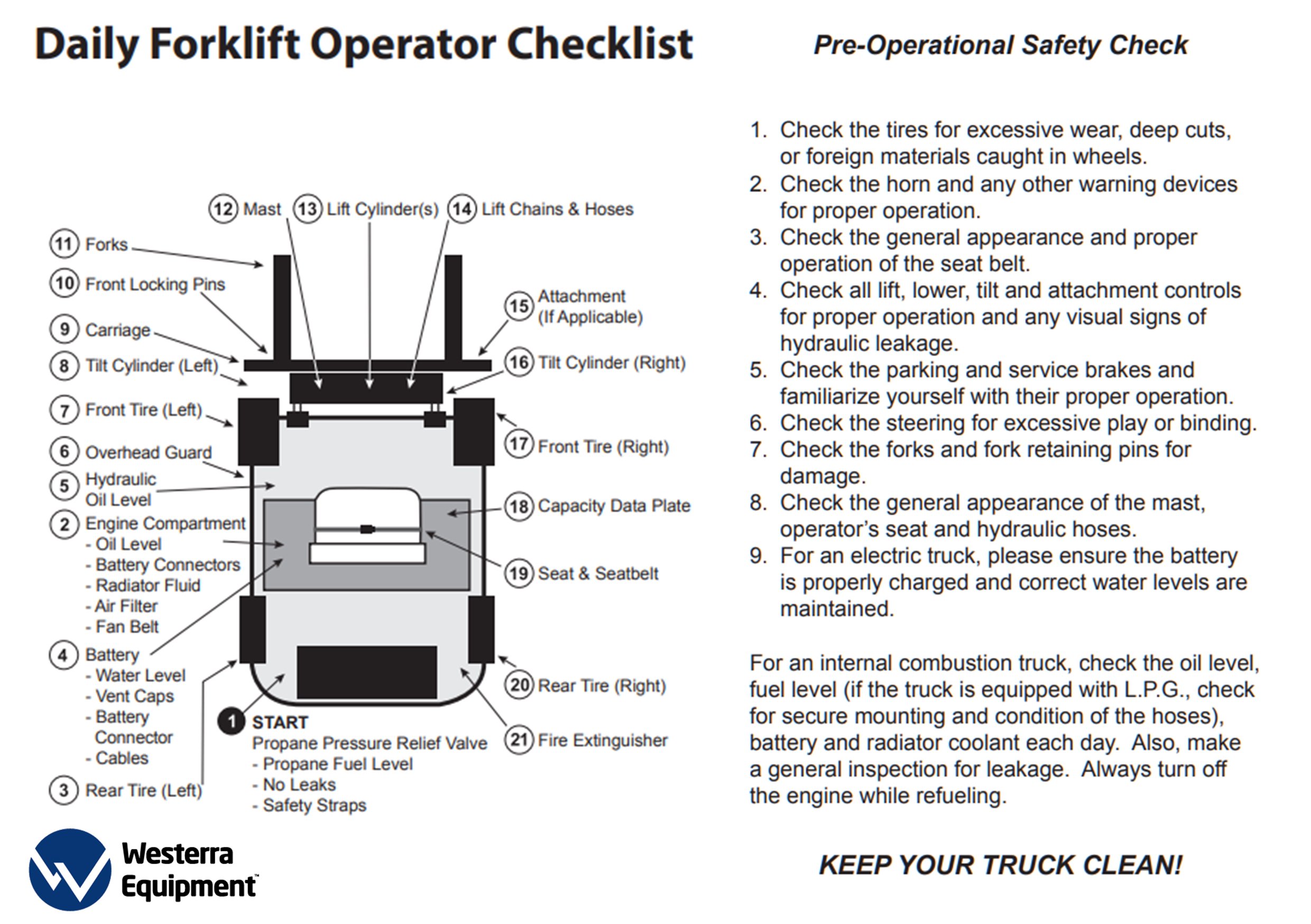 Know your warning signs.
It's important to maintain and service your equipment to ensure you get the best performance you can. By doing regular checks and servicing your machine's lifecycle can be extended and ensures your equipment is always operating at the top possible capabilities. Something some people may forget is to apply the appropriate decals and keeping them maintained and clearly visible. The warning decals can take three forms that vary dependent on potential danger to the operator or surrounding individuals:
Danger (RED) – A red label noting to avoid preventing any extreme injury or death. This is mostly used in a precautionary case basis.
Warning (ORANGE) – Communicates that should the warning not be heeded, or the appropriate precautions not taken injury or death could occur.
Caution (YELLOW) – This is for where operators are to be taking precautions before action and failure to do so can cause minor or moderate injury.
You can keep decals clean and visible by simply cleaning the machine on a regular basis and replacing any faded or damaged decals. It is possible for decals to fade over time which can cause bystanders or operators to not see the important warning signs. As for the inside condition of your forklift, keep an eye on fluid levels and machine movement. For any servicing needs that might arise over time be sure to contact Westerra Equipment for regular and special servicing to be sure your machine continues to work at full functional capacity.
Ready to look into your new forklift purchase?
For a look into what types and brands of forklifts we have available for your material handling needs, click the link below and find out more. We have a wide range of electric or gas-powered Linde, Clark, Doosan and others we have available for purchase or hire.
To learn more about the best ways to keep your forklift in good maintenance this winter, check out our prior blog post on the top tips for forklift maintenance during the cold and snowy season.