Heavy Equipment Service and Repairs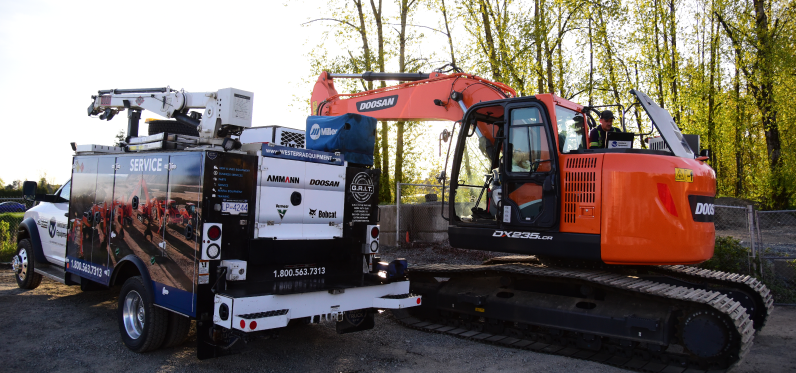 Repairs & Maintenance for Your Excavators, Dump Trucks, and Articulated Rock Trucks
From emergency repairs to scheduled maintenance, our expert service technicians are factory-trained to handle all types of services, on all brands of equipment. From in-shop repairs, on-site repairs, emergency repairs, to planned maintenance packages, we'll make sure your heavy equipment is ready to knock out the toughest jobs. We also offer DEVELON Equipment tailored services including telematics and auto greasing systems.
With four Westerra Equipment locations across B.C., and four Williams Machinery dealerships, we'll be there when you need it most. Our parts warehouses stock OEM and premium aftermarket parts to ensure the right repairs are made.
Contact us today for all your heavy equipment servicing needs.
---
Here are some of the most common services completed on heavy equipment:
Auto greasing systems
Pin repair
Structural repairs
Undercarriage maintenance
Welding services
Hydraulic maintenance
Leak repairs
Dry pump repairs
Plumbing services
Don't see what you're looking for? Speak to one of our service experts.
---
DEVELON Equipment Telematics
Make sure your DEVELON machine gets the services it needs when it needs it to avoid unexpected downtime. DEVELONCONNECT Telematics is a powerful equipment diagnostics tool that monitors the health and productivity of your machine. Let our Westerra Equipment team monitor your DEVELON machine's fault codes and preventative maintenance intervals. We'll get machine insights including diagnostic information, oil pressure, operating temperatures to make sure you stay up and running.
---
In-Shop Repairs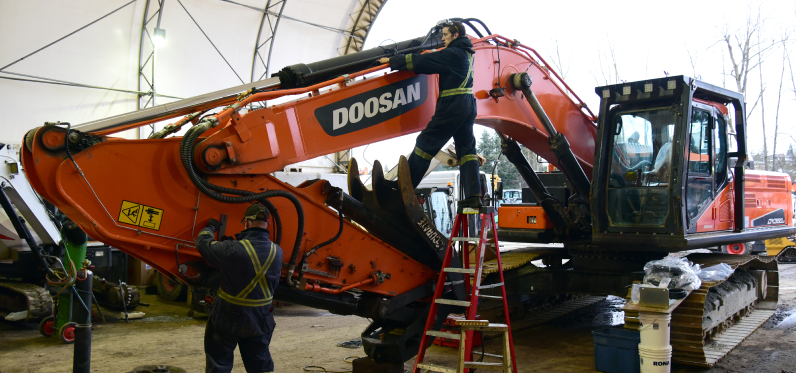 Bring in your heavy equipment to one of our eight dealerships across BC and let our factory-trained service technicians take care of the rest! We have the equipment and skills to support all your servicing needs. From large overhead cranes for heavy lifting to specialized maintenance tools, our service technicians are highly-trained to conduct all types of repairs, on all brands of equipment, to keep your machines performing at top efficiency.
Fill in our Service Request form to connect with our Service team.


On-Site Repairs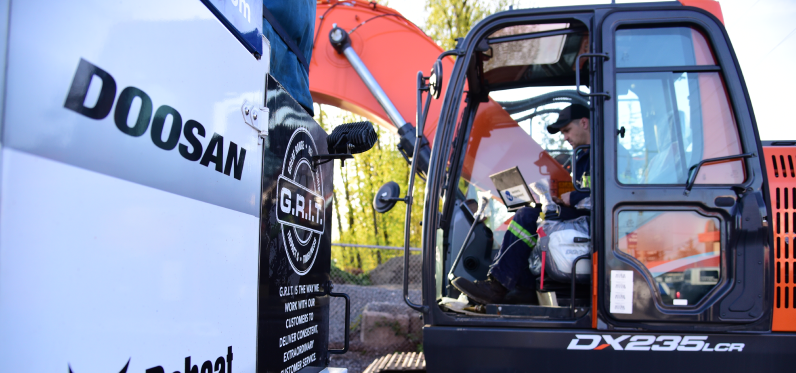 Not able to bring your machine into our shop? Westerra Equipment's mobile team is here to help. Our highly-trained service technicians will drive out to your job site to complete repairs on your equipment. Benefit by saving on transport costs and downtime, and let our team come to you with fully stocked and equipped service trucks.
Reach out to our Service team here for on-site repairs.


Emergency Repairs
Be prepared for anything with Westerra Equipment's 24/7 emergency repair services team on your side. From our quick response time and flexible availability, we will make sure you stay up and running. Call us at 1.888.713.4748 to learn more about our emergency services.


Planned Maintenance
Keep your equipment service out of mind with a scheduled maintenance package with Westerra Equipment. We offer various packages to identify and repair issues before they disrupt your workflow. Work with our team to build out a customized service plan catered around your business's specific equipment fleet, hours, and usage.
Create your custom preventative maintenance plan today.


Warranties
DEVELON extended warranties help protect you against significant unexpected equipment repair and service costs. Extended warranty repairs can be completed in shop, or on-site when and where it is most needed. Have peace of mind knowing that your equipment is protected and our Westerra Equipment experts are a phone call away.
Contact us to learn more about our equipment warranties.
---
Find a Location Near You