Get Safe and Efficient Brush Chipping With These Key Features From Vermeer
October 5, 2022
Vermeer has several options to pick from in the BC and AX brush chipper line-up that can cater to a wide range of applications for arborists, contractors and tree care teams. These machines can tackle any wood debris, logs, limbs and more. Vermeer machines are equipped with intelligent EcoIdle, SmartCrush and SmartFeed systems that make operations easier and help ensure you complete your tasks efficiently and safely out on the jobsite.
For Processing Brush to Chipping Large Branches, Vermeer Offers Multiple Options for Your Needs…
The Vermeer brush chipper range has several options at varied sizes for easy transportation and efficient chipping. When working in tight spaces and noise sensitive areas, the BC700XL and BC900XL are optimal because of their lower decibel ratings and small footprint. If you're using lower powered vehicles to tow the machine, the nimble and portable BC700XL has a weight of only 1,800 lb (817 kg)* making it easy work for any truck or mid to large cars to tow. For the jobs that would require a larger chipping capacity such as processing large branches and bark, the Vermeer brush chipper range goes all the way up to 21 inches (53.3 centimeters) of chipping capacity with the very capable BC2100XL. The BC2100XL is the largest brush chipper in the Vermeer range and would require a vehicle with a strong towing capacity, being best suited for more open landscaping jobsites. For the situations that require a strong middle ground between portability and power, the AX17 has a 17-inch (48.3 centimeter) chipping capacity in a compact single axle body that weighs less than 10,000 lb. (4,536 kg), making it a versatile machine capable of completing a range of chipping tasks from small brush chipping in dense urban areas to open rural areas clearing large branch debris. For more information on the capabilities and key information regarding the Vermeer lineup see the full range offered at Westerra Equipment below:
Vermeer Brush Chipper Line-up (Weight varies dependent on engine type selected)

| Available Models | Base Machine Weight | Chipping Capacity | Feed Roller Type |
| --- | --- | --- | --- |
| AX 17 | 10,000 lbs (4,536 kg) | 17 Inches (48.3 cm) | Horizontal w/SmartCrush |
| BC700XL | 1,800 lbs (817 kg) | 6 Inches (15.2 cm) | Horizontal w/SmartCrush |
| BC900XL | 3,060 lbs (1,388 kg) | 9 Inches (22.9 cm) | Horizontal w/SmartCrush |
| BC1000XL | 4,995 lbs (2,266 kg) | 12 Inches (30.5 cm) | Horizontal w/SmartCrush |
| BC1200XL | 5,680 lbs (2,577 kg) | 13.3 Inches (33.8 cm) | Dual-Horizontal w/SmartCrush |
| BC1500XL | 7,320 lbs (3,320 kg) | 15 Inches (38.1 cm) | Vertical |
| BC1800XL | 9,600 lbs (4,355 kg) | 19 Inches (48.3 cm) | Vertical |
| BC2100XL | 16,200 lbs (7,348 kg) | 21 Inches (53.3 cm) | Dual-Horizontal w/SmartCrush |
EcoIdle Intelligently Minimizes Fuel Consumption and Noise Pollution
The EcoIdle system adjusts engine speeds to reduce environmental impact and optimize performance. Available in all Vermeer brush chippers, this feature helps you complete your work with better resource efficiency via engine adjustment. Machines can be set up by users to reduce engine speeds after 1 or 5 minutes of inactivity to reduce fuel consumption and noise pollution during idle downtime. This makes the system great for use in residential or dense populous areas to minimize disruptions, especially for larger equipment with noisier engines.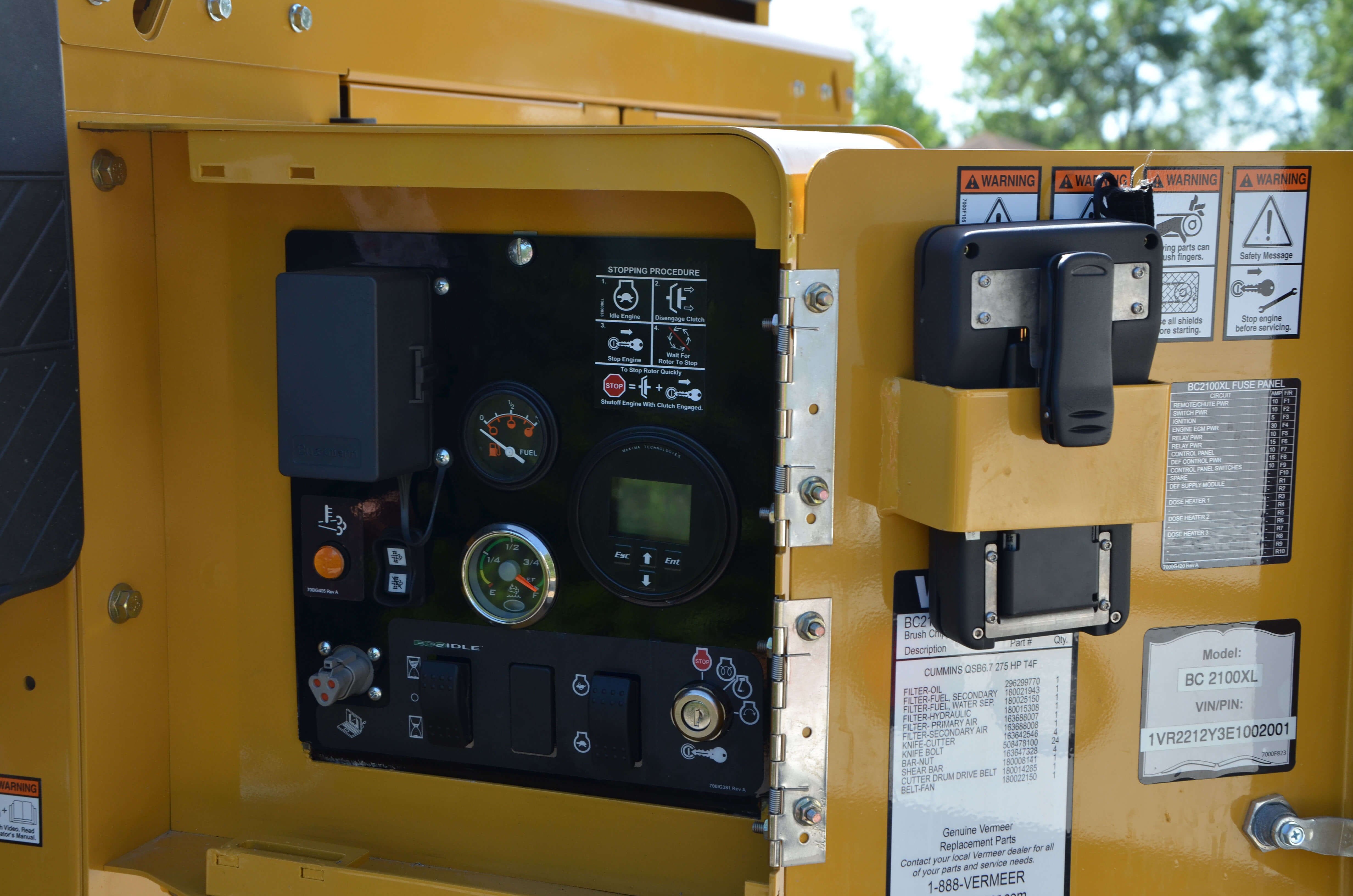 Stay Safe and Time Efficient with the SmartFeed System
The Vermeer SmartFeed system increases operational capabilities as well as making maintenance and cleaning of your brush chipper easier overall. SmartFeed is included in all current Vermeer brush chipper machines. The system registers and controls everything placed into the machine when set to the appropriate category. Machines can be set to either 'Press Bottom' which is for brush and other light materials, 'Center' which is best for small limbs and alike, and 'Press Top' which works best with large limbs and trunks with its high-speed droop. This helps the engine avoid cut off from going over or under speed. When set to high-speed droop this would help processing large limbs and avoid cut off due to the engine going overspeed by managing the large load, or the opposite case when set to low-speed droop with small brush material. When being fed, the machines feed-sensing technology maximizes productivity by stopping and reversing the feed rollers to best process materials. This system also helps in situations of clogs or jams as it can automatically stop and reverse the feed rollers to allow easy removal of foreign items. This prevents the machine from feeding through any unintended objects, increasing the safety of machine operators in the case of any potential accident.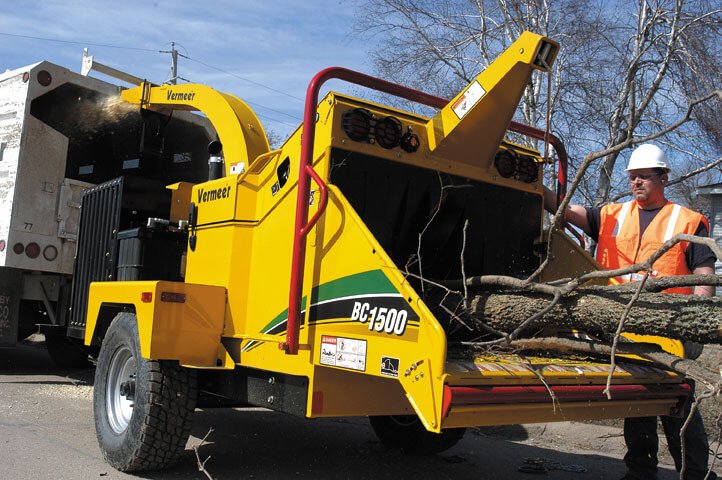 Long feed tables and upward sloping slides also help operational safety as they keep a safe distance between operators and the chipper blades. Vermeer machines have emergency stop bars which turn off the machine if the person operating gets too close to the feed table and hits the red bar. This reduces the risk of an operator reaching too far into the machine and being injured by the feeding process, keeping hands and arms safely away from the blade mechanisms during operation. Additionally, machine feeding is another way of keeping operators safe and clear from the machine mechanisms.
SmartCrush System Increases Pulling Power and Makes Feed Loading Easier
Available only on horizontal feed roller brush chippers such as the AX17 and BC2100XL, the unique SmartCrush pressure system increases pulling power for machines. This system allows the brush chipper to increase the pressure on the loaded materials via the feed rollers after rising for four seconds. The upper feed roller clamps down on the forked material before increasing pressure for maximum pulling force for any load. Using this alongside the optional winch system can make feeding easier and quicker. This helps for tasks where feed is large and requires the high pulling power of a machine such as the BC2100XL which has 10,000 lb (4,535 kg) of pulling power from the feed rollers.
Vertical Feed Rollers vs. Horizontal Feed Rollers: What's the difference and benefits?
Machines with horizontal feed rollers hold some advantages compared to vertical feed rollers, including the SmartCrush feature which is found exclusively on these machines. The horizontal opening funnels the material to the feed roller, this makes these machines better designed for mechanized feeding. This can help in situations where site crews are small or busy working on other tasks allowing the machine to function without requirement of constant feeding by multiple staff and reduces the danger by keeping operators clear of the machine internals.
Vertical feed rollers have the benefit of being able to chip larger diameter logs due to their orientation. This increases workload capacity and can increase the speed of job completion. In addition, less time is needed to manually work hydraulic lift systems due to its alternate internal structure. Unfortunately, the SmartCrush system is not available on these models since the hydraulics do not allow the rollers to crush. However, due to the vertical rollers the load is less likely to move up and down when being fed.
Models such as the BC1200XL and BC2100XL have dual-horizontal feed rollers which offset the position of the two rollers to feed through the material from the first roller to the second. This allows stronger pulling force, avoiding the need to reposition materials in the feeding process and allows for better operation while using lighter weight materials for the machines.
Alongside these notable features present only in Vermeer brush chippers, there are a number of factors to consider when deciding which machine is best suited to your needs. For help with what to consider when purchasing a new brush chipper click below to see our previous blog post on the six questions you should ask yourself before buying your next brush chipper.
Interested in learning more about Vermeer brush chippers? One of our sales representatives at Westerra Equipment can talk to you about your needs and what machine could be best for you.