Six Questions to Ask Yourself Before Buying your Next Brush Chipper
June 9, 2021 | Blog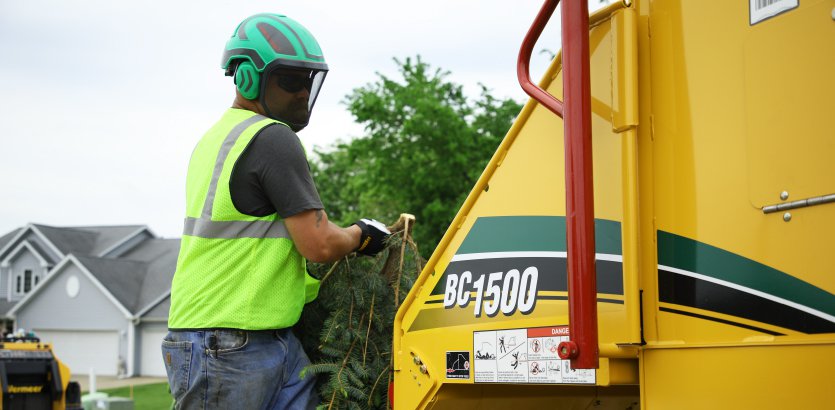 Invest in the Right Brush Chipper to Maximize your Uptime
Effective fleet management requires choosing the right machines for your jobs – machines that will help you maximize your productivity. Whether you are purchasing a brush chipper to expand your services or just upgrading your fleet, Williams Machinery matches you with the best available equipment for your specifications. To simplify this process, we've put together a quick guide of six questions to help get you started.

What Type of Work Do you Do?
The first thing to consider is what type of job your brush chipper will be used for. Are you mainly in the business of trimming or takedown projects? Trimming jobs deal with processing smaller branches, limbs, slash, and brush. And often, a machine with a 22.9 – 30.5 cm diameter capacity can handle these tasks easily. Takedowns that involve removing and processing whole trees generally require a larger unit. In this case, a machine with a 38.1 – 48.3 diameter capacity is better equipped for these jobs.
What is the Local Landscape?
Based on the environment of your jobsite, you will face different types of materials. Jobs in a newer, residential area typically sees younger trees in smaller diameter. Jobs in an established development often involve larger, mature trees.
What Size of Wood Chips?
When choosing a brush chipper, it is important to look ahead and consider the disposal of wood debris. There is opportunity to recycle the wood chips into mulch, compost, and biofuel. However, many companies require a specific chip size to be eligible. Keeping this requirement in mind should help guide your decision on the type and size of machine you purchase.
Horizontal or Vertical Feed Rollers?
Most commonly, feed rollers are horizontal. This makes the machine responsive to larger diameter logs and requires less time manual working the hydraulic lifts. Some machines come with a vertical feed roller which reduces the number of chips spilling on the ground and requires less time in clean up.
How do you Transport your Brush Chipper?
When choosing your machine, keep in mind the trade-off between size and horsepower. As a brush chipper's working capacity increases, so does its weight and size. Stay on top of your cost of operations and take the time to consider how you will be transporting your machine between sites. For projects dealing with smaller branches, a smaller-capacity chipper also brings added benefit of ease of transportation.
What Level of Safety do you Require?
Determine the level of safety guards you value on your brush chipper. Longer feed tables and upward sloping slides enhance safety between cutters and operators. For greater protection, look for a model with an enhanced upper fed control bar and additional emergency stop position.
---
Ready to explore our brush chipper options? View our units with these questions in mind to help guide you towards the right equipment for you.

Still unsure which brush chipper to go with? No worries, our sales representatives are here and are happy to help. Speak to one of our people today and take a step towards efficient fleet management and maximizing productivity.