Find Out Which Articulated Loader Best Matches Your Jobsite Needs
June 1, 2021 | Blog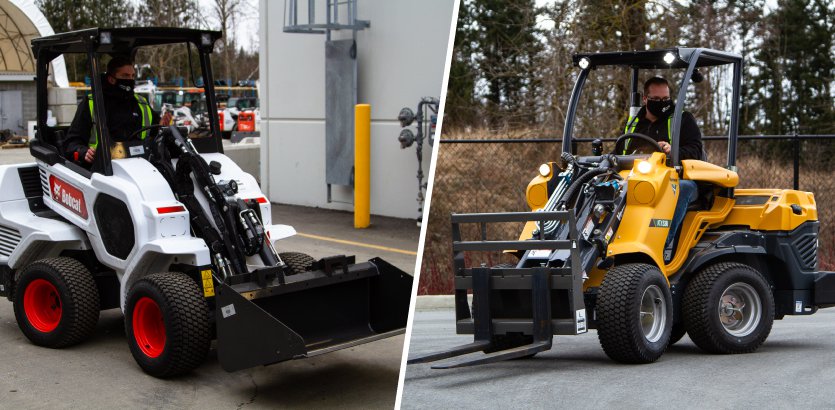 Great Options from Bobcat Equipment and Vermeer that Have Changed the Way Landscapers Work
Having the right equipment is crucial to achieving maximum uptime. Articulated loaders have disrupted the landscaping industry, quickly rising to be the popular choice. It can perform heavy duty tasks in tight areas and over tall obstructions, helping landscapers work efficiently with less fatigue. Westerra Equipment is proud to be a certified dealership for premium brands including Bobcat Equipment at Vermeer. Speak to one of our sales representatives to be matched with the best equipment for your job.
View our Bobcat and Vermeer Units.
---
Bobcat Equipment and Vermeer are two industry leaders in the landscaping industry. While Bobcat is recognized for their strong and reliable machines, Vermeer excels in designing specialized machines for specific jobs. In this article, we introduce their fleets of articulated loaders to help you decide which machine is right for you. Specifically, we look at Bobcat's L23 and L28, and Vermeer's ATX530 and ATX850 to help you decide which machine is right for you.
Engine
Both Bobcat and Vermeer line-ups feature a strong 24.8 HP D1305 Kubota engine, which is the best displacement engine in the class.
Rated Operating Capacity
Bobcat offers the heaviest lift capacity for this class, industry wide. Bobcat's L23 provides a lift capacity of 1,395 lbs, whereas their L28 can handle up to 1,534 lbs. In comparison, Vermeer's line-up excels in projects where sensitivity to ground surfaces is important. The ATX530 has a capacity of 933 lbs, offering up a great alternative to those in need power, while being mindful of turf disturbance. The ATX850 offers a lift capacity of 1,590 lbs and weighs 4,254 lbs, making it the leader of the class in lift-to-weight ratio.
Inside and Outside Turning
Both Bobcat and Vermeer models have a comparable inside and outside turning radius.
Boom
Both Vermeer's ATX530 and ATX850 are equipped with a telescopic arm, allowing operators to easily dump material over the backside of a retaining wall or grab material over an obstruction. Offering exceptional maximum reach, the ATX530 goes up to 35.4 inches. The ATX850 reaches 46.6 inches and has the greatest pivot point height on the market. Bobcat L28 also offers a telescopic arm, reaching 30.9 inches. A key difference is that Bobcat machines are engineered with a single arm design to improve operators' visibility.
Machine Build
Vermeer machines come standard with HD plastic, making them more malleable with greater flex across the board. This is beneficial as it increases the durability of the machine. Bobcat machines also offer the option to upgrade to HD plastic.
Attachments
Bobcat is known for extending the capabilities of one machine with the help of their countless attachments. Their articulated loaders are no exception and come standard with a universal mounting plate. Utilizing hydraulics, operators can easily connect and disconnect attachments from right inside the cab. Vermeer is working to match this feature; each of their articulated loaders are built with a universal mini skid steer mounting plate to use a variety of Vermeer authorized attachments.
Operator Cab
In the operator cab, both brands have prioritized functionality and comfort. Bobcat includes ergonomic controls and a spacious cab that enables cross-ventilation and optional enclosed heated cabs. A key design win is their intuitive twin-pedal travel controls, which enables quick and easy direction changes. These pedals are smaller and wider apart which sets operators up with greater accuracy, even when wearing large boots. Vermeer machines also offer economic controls and feature a multifunction joystick. This utilizes electric-over-hydraulic toggles for ease of access to machine functions like the telescopic boom, auxiliary hydraulic controls, and the DBS. The cab is designed for comfort, with an adjustable seat, to help operators easily work all day. Additional features such as a heated seat, enclosed and heated cab, and work lights are also available for certain models.
Both Bobcat and Vermeer offer great options to articulated loaders, each excelling in different features. See the table below for a comparison of each machine's key specifications to help you choose the right machine for your job.
---
Four-Way Comparison
| | | | | |
| --- | --- | --- | --- | --- |
| Specs | L23 | L28 | ATX530 | ATX850 |
| Rated Operating Capacity Straight (ISO) | 1,395 lb | 1,534 lbs | 933 lbs | 1590 lbs |
| Rated operating capacity (articulated) | 1,159 lb | 1,222 lb | 794 lbs | 1351 lbs |
| Operating Weight | 3790 lb | 4195 lb | 2711 lbs | 4254 lbs |
| Max Reach | 16.8 in | 30.9 in | 35.4 in | 46.6 in |
| Turning Radius Inside | 77.2 in | 78.2 in | 31.5 in | 32.5 in |
| Turning Radius Outside | 100.9 in | 100.9 in | 78.7 in | 82.3 in |
| Tipping Load Straight | 2789 lb | 3068 lb | 1865 lbs | 3177 lbs |
| Tipping Load Art. | 2317 lb | 2444 lb | 1585 lbs | 2701 lbs |
| Travel Speed | 8.2 mph | 8.3 mph | 7.8 mph | 8.7 mph |
---
Still not sure which articulated loader is best for you? Reach out to one of our sales representatives and let us help maximize your productivity with the right machine.