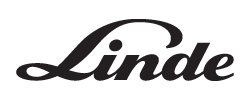 Linde
Linde Forklifts and Material Handling Equipment
Cushion Tire, Pneumatic Tire, Electric Forklift Trucks & More
A part of the KION Group, Linde Material Handling is one of the world's leading manufacturers of forklift trucks and warehouse equipment. Their wide range of top-class Material Handling Equipment consists of numerous models of Cushion Tire, Pneumatic Tire, Electric, and Narrow Aisle forklifts as well as Pallet Jacks.
Designed for intralogistics operations, Linde's lift trucks are ideal for all your warehousing, moving, load handling, and order picking processes. Different models, load capacities, and battery sizes make it easier for you to pick the machine that best suits your business needs.

Williams Machinery offers a wide range of Linde equipment including diesel lift trucks, electric forklift trucks, electric counterbalanced trucks, electric narrow aisle trucks, electric warehouse pallet trucks, counterbalanced cushion tire trucks, and counterbalanced pneumatic tire trucks.
Our selection of premium Linde lift trucks consists of New Equipment, Used Equipment, as well as Rentals.