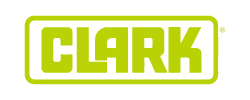 Clark
Clark Forklift Trucks and Parts
Cushion Tire, Pneumatic Tire, Electric, Narrow Aisle Lift Trucks & More
Born out of 100 years of innovation, Clark forklifts are 'Smart, Strong, Safe'. Built to last, these forklift trucks help increase efficiency, reduce downtime, and improve operator safety.
Designed for manufacturing, warehousing, materials handling, and distribution operations, their models of dependable forklift trucks include electric, cushion tire, pneumatic tire, and narrow aisle options. In addition to these, Clark's range of products includes pallet jacks and quality parts, too. To fulfill the demands of your business, choose from their array of forklifts with varying mast heights, built, and engine types.
To serve you better, we offer not only New and Used Equipment from Clark but also Rentals and Parts.