Top 5 Snow Removal Attachments for Your Loader
August 30, 2020 | Blog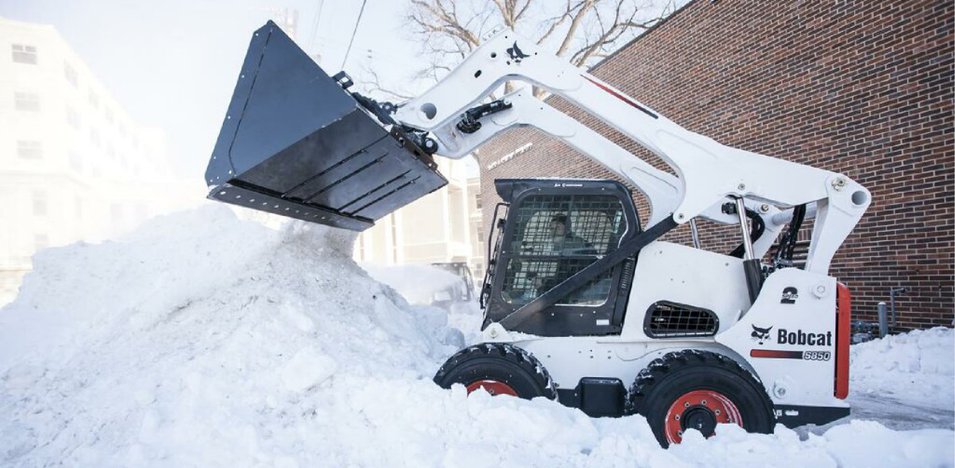 Snow can present a list of challenges to businesses during the winter. Snow removal can become costly and time-consuming without the right attachments for your equipment. From snow buckets to snow plows, it's hard to know which attachment will work best for the job.
We've narrowed down our list of the top 5 snow removal attachments to equip onto your loader this winter.
Snow Bucket One of the most versatile attachments for your equipment, the bucket comes in a variety of different types for different purposes. The snow bucket's high back and straight sides make it easy to load and handle large amounts of snow.
Snow Pusher Available to equip onto your Bobcat compact loader or Doosan wheel loader, the snow pusher attachment is designed to clear large amounts of snow.
Snow Blower Use the snowblower to quickly throw and blow heavy snowfall from paved surfaces.
Angle Broom Sweep away light snowfall (6" or less) on sidewalks, driveways, parking lots and loading docks with the angle broom.
Snow V-Blade For plowing through deep snowdrifts, use the snow v-blade attachment. The attachment can have as many as five different configurations making it easy to remove snow. The v-blade configuration helps cut through compacted snow. The left and right angle blades can be used to move snow in different directions. The scoop blade allows you to collect and hold snow to move to a different area.
We want to help you get your loader ready for a snowy winter ahead. Our knowledgeable staff can help you find the right new or used attachments for your loader.

Have an attachment ready to go and need a hand equipping your loader? Our team of skilled service technicians can help you get your loader ready to take on its next snow removal project. Call 1-888-713-4748 to speak to a Service Advisor at your local dealership or request a service through our online form.