The Case for Rental
July 6, 2018 | Equipment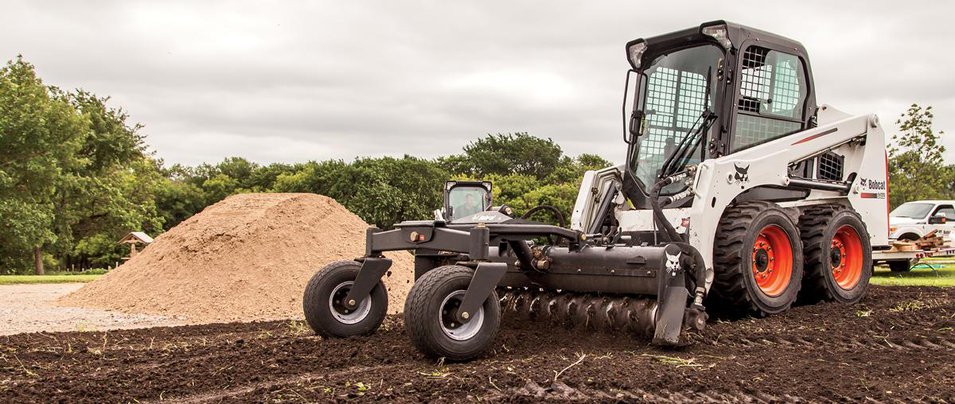 Got a big project coming up and need a temporary addition to your fleet? Regardless of economic conditions, renting a Bobcat® compact track loader, skid-steer loader or compact excavator can be a smart decision. Review these advantages of renting and why it can be right for you.
1. Take on short-term projects. Not all jobsites justify a permanent equipment purchase. If you're looking for a temporary solution to supplement your fleet without buying equipment, rental may be the best choice.
2. Add new revenue sources. Looking to secure work that you previously subbed out? Consider renting an attachment to expand your services. A well-paired loader or excavator attachment may help you with a project, delay purchasing a dedicated piece of equipment and open up new revenue sources.
3. Benefit from specialized equipment and attachments. Strategically expand your services and maximize a rental contract by adding larger, smaller or more sophisticated equipment and attachments. Some attachments can vertically integrate with the machine's electronics and hydraulics, allowing you to easily adjust to changing markets and applications. Attachments also help you reduce the need to hire additional workers.
Rotary cutters, brush chippers, forestry cutters, soil conditioners and stump grinders are just a few rental attachments that have multi-functional capabilities that provide more flexibility and convenience on one-off jobs.
4. Decrease operating costs. Complete projects without the additional expense of servicing a machine beyond routine maintenance. When you rent, per your rental agreement, it may be the rental store or dealership's responsibility to follow scheduled maintenance intervals. Taking this task off your plate can decrease the cost of maintenance, repairs and equipment downtime.
5. Reduce the need for storage. It may not be feasible to make space for extra machines and attachments. Renting makes it easier for you to return the equipment to your rental store or dealership once a project is completed.
6. Consider a rental purchase option. What if you have short-term needs that turn into long-term solutions? A rental purchase option (RPO) may work for you.
An RPO allocates a portion of your rental fee toward purchasing a machine or attachment, or you can return it to your dealership at the end of the rental period. If you're considering purchasing a machine, structure an RPO contract and start a conversation with your dealer. You need to determine and monitor the crossover point at which you've built enough equity in a machine through a rental contract that you could effectively lower a rental payment by exercising an RPO.
If you're looking to better budget for equipment expenses and reduce your overall cost of ownership on a project, consider renting. Renting equipment can be a smart decision in any economic condition.