Rent Bobcat Equipment and Attachments With Westerra Equipment
January 24, 2023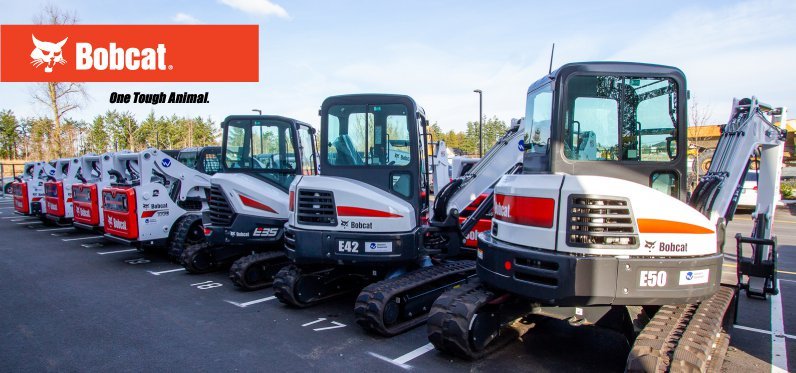 Why Not Rent with Westerra Equipment?
Need a piece of equipment but don't want to take the plunge to purchase a new Bobcat machine? Avoid breaking the bank and rent Bobcat machinery to get tasks completed with the best equipment for the job. Reliable and durable, Bobcat equipment is designed to add efficiency to your work. With the right set of attachments, our Bobcat machines can help you tackle tasks with efficiency and ease.
At Westerra Equipment we have been helping people get the best tools for the job for over 100 years. Through our 8 locations across British Columbia, our rental team has helped thousands of customers across the province with renting equipment of all shapes and sizes for tasks related to construction, landscaping, material handling, agriculture and more. Alongside our Bobcat fleet of compact loaders and excavators, we also have everything in between from articulated dump trucks to forklifts our fleet is stocked with top of the range equipment from Linde, Doosan, and others. Our servicing team keeps all machines in our rental fleet in great standing performing regular maintenance and upkeep so you can have the best experience with your equipment ready for any tasks you may have.
Our rental program can help you save the headache of equipment maintenance or storage and can also allow you to test a piece of equipment before you do decide to potentially buy a Bobcat machine*. If you only need the equipment for a short period, renting can help save greatly on a new or used equipment purchase. For a full breakdown of the benefits to renting and buying, see the table or follow the link using the button below:
Not sure what's best for you? See the benefits of renting versus buying

| Benefits of Rental | Benefits of Buying |
| --- | --- |
| Enjoy zero or low upfront cost for equipment | More economic for long-term if the equipment is to be used frequently |
| Almost zero lead time | You can pursue more work opportunities knowing the equipment is available at hand |
| Maintenance is handled by us so your machine is ready to be put to work | Possible high residual value for well-maintained equipment |
| You get some of the latest equipment with modern features for extra comfort or capabilities | Able to take advantage of promotional offers for 0% payments or cash rebates |
| Wider range of equipment to pick from | Flexibility in scheduling and increased ability to react to sudden unexpected changes in projects |
| Option to rent equipment closer to your job site | Consistent fleet of owned machinery with known cost for operations |
Talk to one of our rental team members about what your needs are and we'll work to get you the best equipment for the job with the deal possible, after all, we work to keep you running!
Pick From a Wide Range of Bobcat Machinery Available for Rent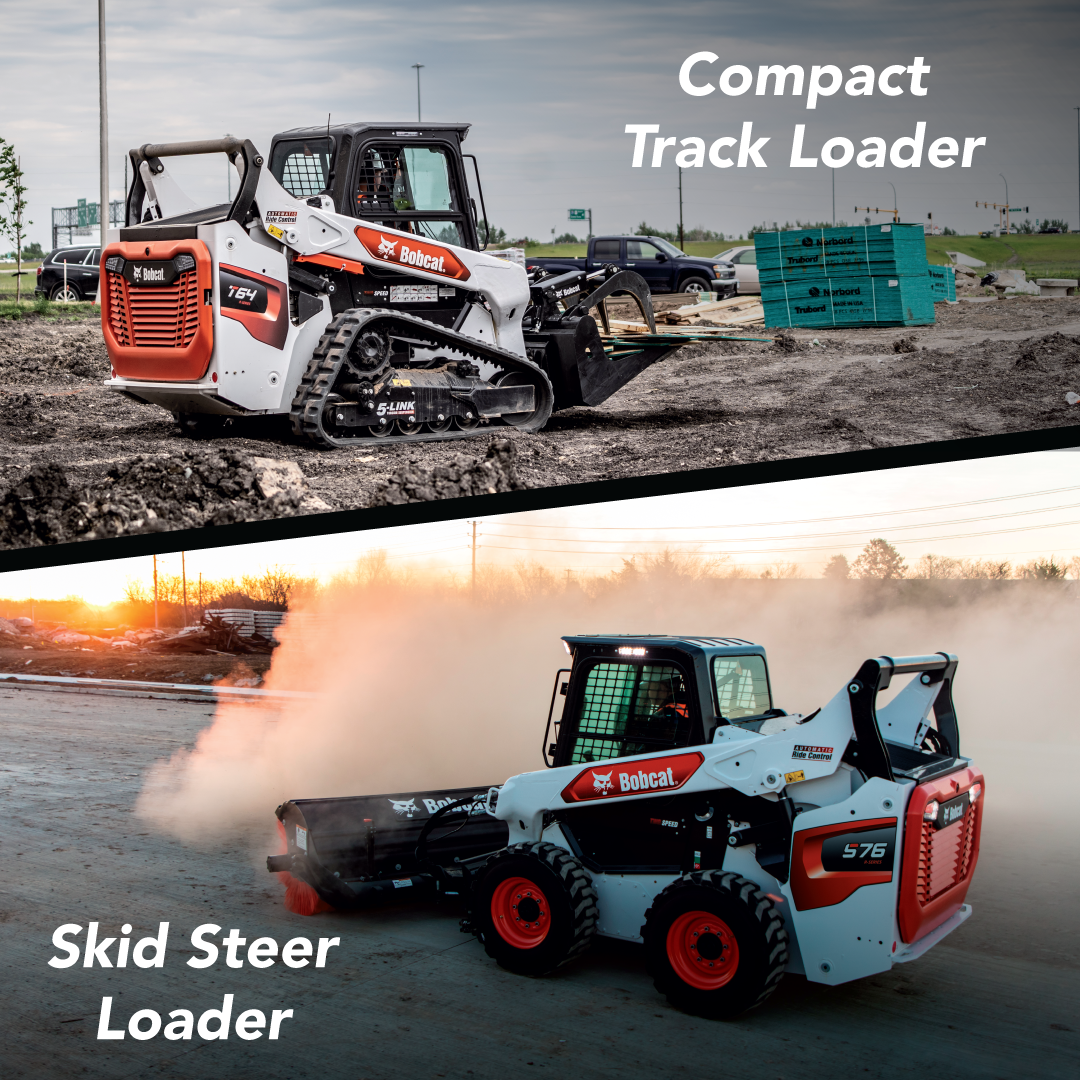 We have a full fleet of Bobcat compact loaders available for rent to help you get tasks done. From lighter jobs like snow clearing, to heavy duty jobs like micro-trenching we have you covered. Westerra Equipment offers both Compact Track Loaders (CTL) and Skid Steer Loaders (SSL) for rent, so no matter the terrain there's an option available for you to pick from in our compact construction fleet. We have equipment starting from a load capacity of 500 lbs going up to 3,800 lbs. Popular models available include the S570, T870, T76, and more. All these models and others offered take full advantage of Bobcat 'Bob-tach' attachments (also available for rent) which can further your productivity with these very capable and nimble machines. For a better idea of if a Compact Track Loader or Skid Steer Loader would be better fit for your needs simply contact us or visit the page below with more information on both equipment types and their respective benefits.
Need a lift? Rent a Bobcat Telehandler for Your Material Handling Needs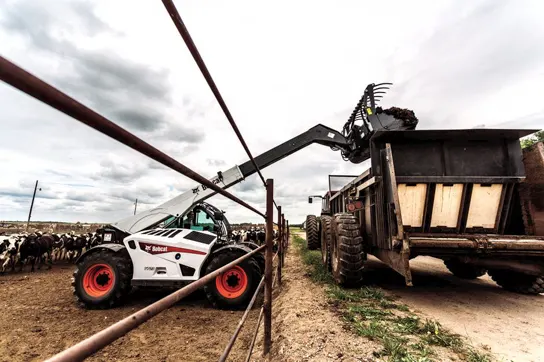 Shift heavy weight materials high and far with Bobcat telehandlers capable of shifting up to 9,000 lbs. with a height of 42 feet. Have the best equipment for the job out on site wherever your material handling and movement needs may be with Westerra Equipment and Bobcat. The range offered includes (but is not limited to) models such as the: TL619, V723, V923 and more. If you need to lift beyond 9,000 lbs. anywhere up to 20,000 lbs. we've also got you covered, check out or other available telehandlers from JCB and others that are able to go that extra mile should you need, just click the button below to see all of the telehandlers we have available for rent.
Get Larger Tasks Done With Bobcat Excavators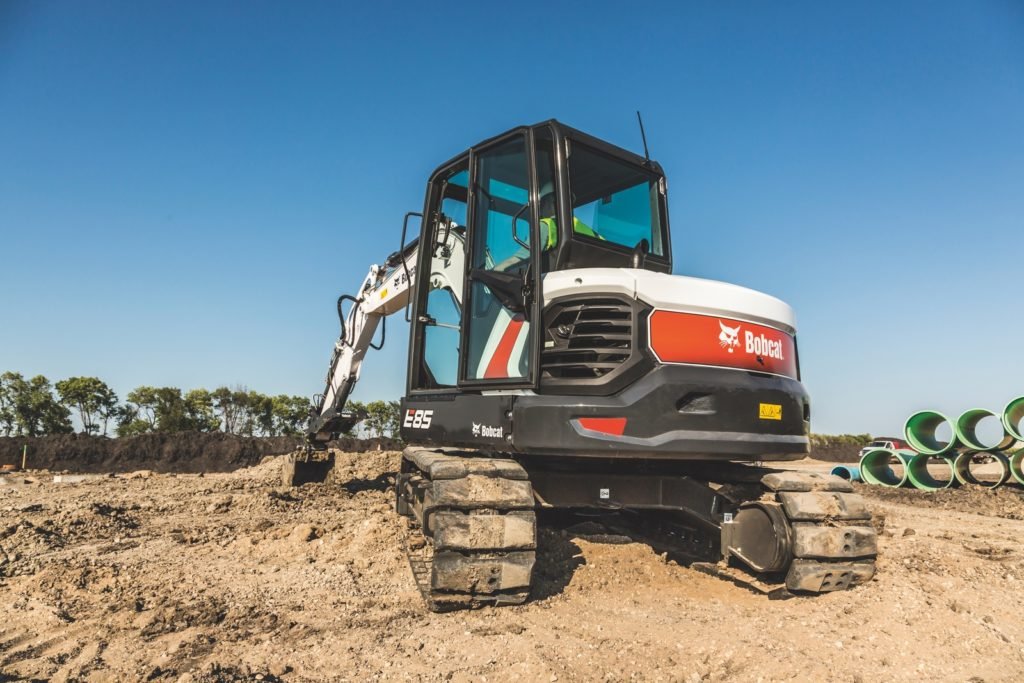 Need some extra power to get things moving? Bobcat excavator machines are also available to be rented from Westerra Equipment with low-cost rates. For any tasks such as landscaping, demolition, and construction tasks we have excavators capable of lifting to 18,500 lbs. For heavier tasks that would require up to 80,000 lbs of capacity, alternative excavators from Doosan are also available to rent. Take full advantage of Bobcat's attachment system and use specific tools to get tasks done with precision and efficiency such as the heavy bucket or grapple tool for lifting specific items. Most popular models include the E26, E35, and E85. To see all equipment available for rent, use the button below.
Rent Official Bobcat Attachments to Further Your Efficiency
Just looking for that specific attachment to help get the job done? Westerra Equipment offers a range of attachments that can fit most Bobcat machines. Official Bobcat attachments such as augers, trenchers, buckets, breaker attachments and more are all available for long- or short-term rental. Talk to a member of our team today to see how we can help you get tasks done with the right attachments for the job at a great rental rate.
Need some help or looking for something else?
If you're looking for something different such as forklifts, dump trucks and other machinery, visit our rentals page to see all our available equipment for rental hire by clicking the button below!
Not sure what you're looking for? Talk to one of our representatives to get more information on our rental fleet and what equipment could be best for your needs. We can help you select the right equipment for the job you need to get done!
*Please note equipment rentals are typically advertised based on operational capability (lbs. capacity) and specific machines are not always guaranteed. For requesting a specific piece of machinery to rent, please contact us for details on availability.