Konecranes E-VER Lift Trucks Gives You Eco-Efficient Features without Compromising on Power
August 11, 2023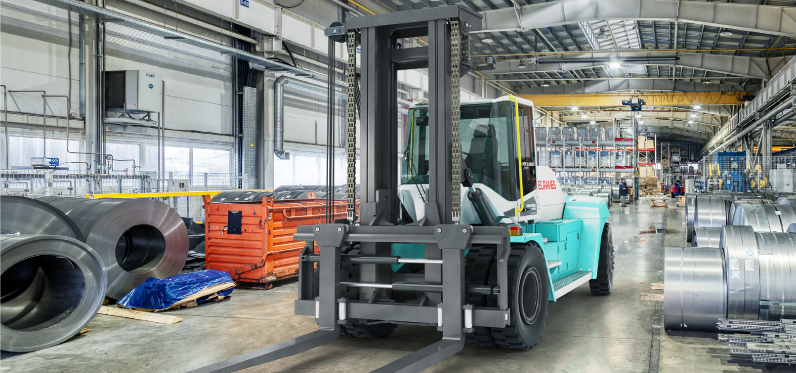 World class solutions for heavy-handling applications with Konecranes E-VER Electric Lift Trucks.
Engineered with the latest eco-efficient features, the Konecranes E-VER electric lift truck enhances operation productivity while simultaneously reducing energy consumption. Knock out large jobs at lower operating costs and zero emissions. We discuss the key features and benefits of this electric line up.
Greater Efficiency
Compared to its diesel counterpart, the E-VER electric forklift cuts energy consumption by up to 70%. Only requiring about 45 minutes to recharge the battery, you can keep working throughout the day with minimal downtime. Additionally, braking energy is recovered and stored for later use. 
Battery Technology
With the option to be powered by one or two Li-ion battery packs, the Konecranes E-VER lineup can be customized to your job requirements. Changed your mind and want to add another battery? Not to worry! The smart design of the truck allows you to easily retrofit a second battery after the fact. The lifetime of each battery is about 4000 charge cycles*. This amounts to about five to six years of operation in average conditions.
*may vary based on your usage.
Easier Maintenance
Electric forklifts have fewer moving parts and no gearbox compared to traditional diesel lift trucks. This means less maintenance costs and more time on the site knocking out your tough jobs. Because there is no heat and less vibration from the engine, some components will have longer lifespans. Work with confidence knowing that this machine is built with the same tried and tested sturdy frame design, steer axel, and lifting mechanism as a familiar diesel forklift.
Operator Comfort and Safety
With less noise pollution and luxurious cab features, operators get a more enjoyable ride. The electric drive motor lets drivers go from stand-still to full motor torque in smooth acceleration, all while delivering a quieter and steadier experience. In addition, a spacious cab with high visibility and ergonomic controls ensures less operator stress and fatigue.
Prioritizing safety, the Konecranes E-VER battery is designed to not release any emissions during operations. Three key safety features are also implemented:
Electric current is stopped while the vehicle is charging
Battery cells are balanced and managed to maximize efficiency
Get automatic warnings signals
Smart Connected Lift Trucks
Get real-time information on the health and productivity of your Konecranes fleet with Smart Connected lift trucks. Through the equipment's sensors and an internet connection, you can remote in to view insights on your machine and adapt to boost operations. Key parameters to monitor include battery status and charging time, energy consumption, braking energy, and more real-time analytics.
Are you ready to go electric? Speak to our sales representatives today.