How to protect your compact equipment from theft
October 10, 2019 | Blog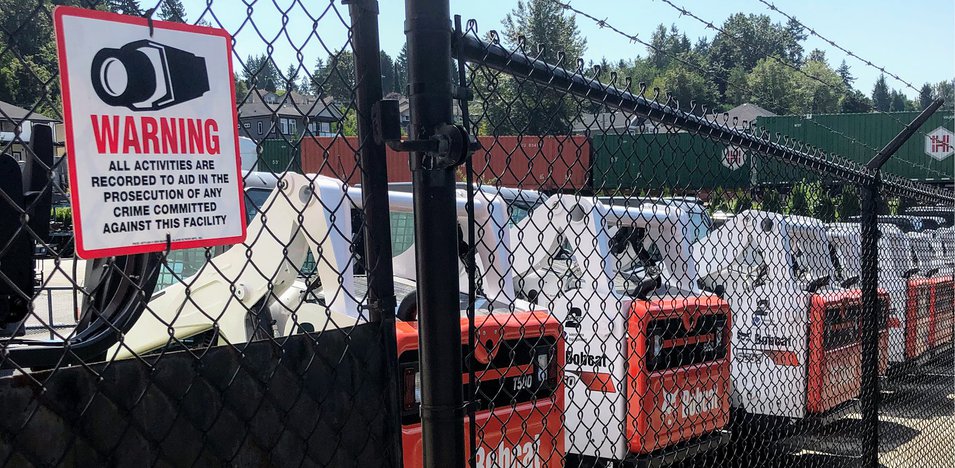 Equipment theft is a growing problem across Canada. Construction zones are often the perfect place for thieves looking to make a quick dollar for an unsecured tool or piece of equipment. Equipment loss can be costly and result in unnecessary downtime for your business.
Protect your investment with these tips:
Bolster Your Site Security
Ensure your equipment is monitored 24/7 with the right site security for your business. Equip your site with remote monitoring technology, such as surveillance cameras, or employ guard services to monitor your site afterhours.
Don't Ignore the Basics
Locks, chain-link fences and gates, no trespassing signage, alarms, and appropriate lighting sources are all basic security features that are easy to install, and can help deter potential thieves. Make sure to regularly test and maintain these features to ensure your site is secure throughout the year.
Follow a Site Protocol
Create a site protocol for workers to follow when they end their shifts. Workers should be instructed to park all equipment in their designated areas, shut and lock cab doors, and log each piece of equipment after their shift ends.
Keep a Record of all Equipment and Tools
Maintain a record of all equipment located on your site. Record serial numbers for your equipment in a database, and do a physical check to ensure that the number on the machine is correctly logged and matches what is in the system. When a new unit is brought on site, make sure to update your inventory with the information.
Invest in the Right Technology
Many brands offer security features that can help you prevent equipment theft. Bobcat offers BobcatVision, a synthesis tool for managing your fleet and service teams, and protect against theft. BobcatVision allows you to identify authorized operating zones using the Geo-Fence feature in Alert Manager. Alerts will be sent any time your equipment has left an authorized operating zone.
Want to learn how BobcatVision can help you keep your fleet safe? Speak to one of our Bobcat® Specialists today!