Doosan's Largest Log Loader Takes on Forestry's Biggest Challenges
July 9, 2019 | Blog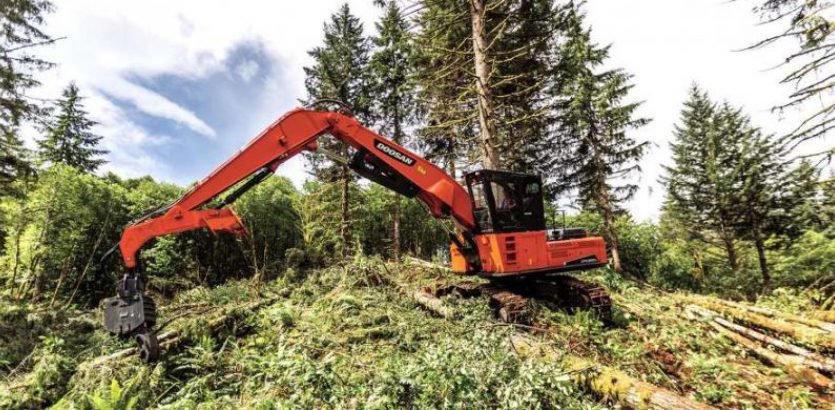 Take on the forestry industry's toughest work and terrain with Doosan's largest log loader yet – the DX380LL-5.
The high and wide carriage gives the DX380LL-5 effortless ground clearance over stumps and branches.  The DX380LL-5 maximizes stability on uneven terrain with a wide footprint, and tracks featuring durable links with double grouser shoes and full-length rock guards.
The upper structure's durable guards along the front, side, the arm cylinder and boom cylinder offer superior protection during tough forestry application. The cab features a 4 ft. riser with guarding and a hydraulic lift for transport.
LED lighting increases operator visibility during conditions with little sunlight. Maximize uptime and monitor performance by taking advantage of the DX380LL-5's multi-function LCD display that shows a variety of machine information, including operation history, flow rate contraol and filter/oil information.
Increase production with the DX380LL-5's high swing torque and long reach for quick picking, moving and placing of heavy loads. The pattern change valve allows operators to toggle between control pattersn without hassling with hydraulic hoses.
The DX380LL-5 is equipped with fuel-saving features and systems that help reduce operating costs. Auto-shutdown turns off the engine after reaching a preset and adjustable idle time. The Electronic Power Optimizing Systems (EPOS) links the hydraulic system and engine control for productivity while minimizing fuel consumption. Operators can switch between multiple work modes to ensure optimized fuel consumption for all working conditions.
Looking to conquer your next forestry project with ease? Speak to a Westerra Equipment representative for more information on the DX380LL-5.