Challenges solved by using Doosan DA30-5 articulated trucks to keep major projects on schedule
October 25, 2017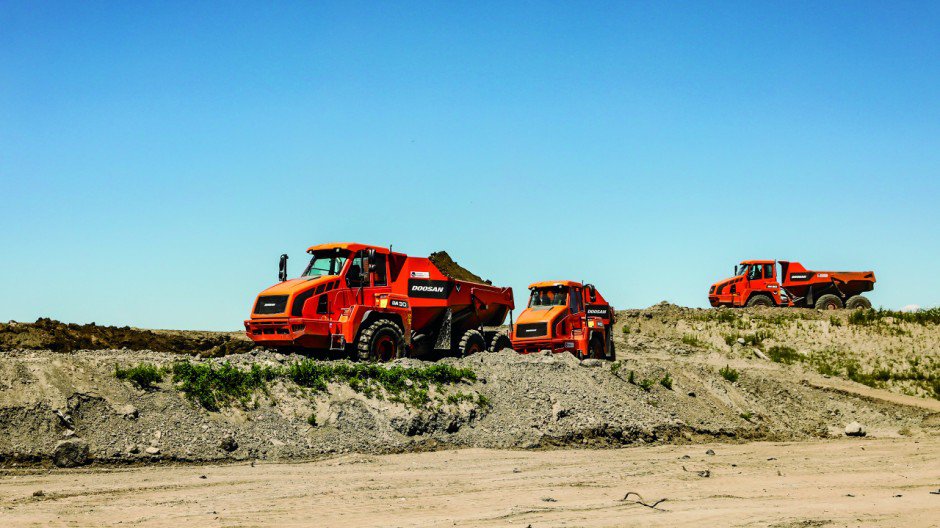 Kevin Clarke, vice president of civil and infrastructure for Aquilini Development Group, says the Vancouver economy is very hot right now and the company has developments going all over the greater Vancouver area, as far east as Chilliwack. The company does everything from high-rise towers in downtown Vancouver to single-family and multi-family urban developments.
Clarke has five multi-year Aquilini Development projects in progress. One example is Tsawwassen Shores, a master planned community with single-family and multi-family homes in Tsawwassen near a shopping mall, the ocean and downtown Vancouver. The 109-hectare (270-acre) waterfront project is being developed in multiple phases. Clarke says it won't be fully finished until at least 2020 or 2021, and is a joint venture with members of the Tsawwassen First Nation. Aquilini Development manages the project and does everything from the earthmoving work to the complete construction, sales and closings of properties.
Aquilini Development is a division of Aquilini Investment Group and until only a few years ago hired out its civil construction needs to general contractors. Three years ago, Clarke joined the company and has helped grow a new construction entity to perform the work rather than hiring someone else. "Self-performing on the civil side of things is becoming a pretty common entity these days," he says. "I've been doing it myself for other companies for a number of years now, and most developers are recognizing that there's a lot of cost savings in doing it yourself."
Difficult soil conditions A significant challenge with the project has been soil conditions at the jobsite. Clarke says the area was a dumping ground for a variety of non-hazardous materials, from diverse soils to gravel and rock. "Our biggest challenge with this particular site is the weather and soil. We need sunshine and we need wind because we can get it structurally compacted if we have the dryness in it," Clarke explains. "If it's got any moisture in it at all, it won't compact, so this year has been a real struggle for us. He says that they were late getting started this year because of the weather.
"Last year we were able to start late April because we had such a beautiful summer and wrapped it all up probably the end of October. The great thing about being on the ocean is the wind - it really helps draw the moisture out of it."
Clarke says articulated dump trucks are the only feasible solution to move the material. The company purchased four Doosan DA30-5 articulated dump trucks from Westerra Equipment, the local Doosan construction equipment dealer in Vancouver. "It has to be articulated dump trucks. You couldn't take regular highway trucks onto this jobsite; they would disappear," he says. "The operators are working 10-hour days, minimum, if the weather's good. We've got to go."
Phase 2, where crews are working this summer, is a property just west of the Tsawwassen Mills shopping mall, not far from the Pacific Ocean and near the Tsawwassen ferry terminal to Vancouver Island.
"There's a lot of preloading involved to compress the existing ground," Clarke says. "Because it's waterfront work, we're very close to sea level, so it's a lot of preload. We're trying to be efficient in that aspect of the existing material we have, we continue to move from phase to phase. Part of that process is bringing it up to a flood plain elevation, so we structurally build up to that elevation and then preload it on top of that. The very first part of that was the movement of excess material from Phase 1 three years ago to the start of our Phase 2 site, and we're now in our third year of that preload being moved."
Each Doosan DA30-5 can carry up to 17.8 cubic metres (23.3 cubic yards) and can travel up to 34 miles per hour, making them an efficient means of accomplishing bulk earthmoving tasks. "Last year we moved probably close to 500,000 cubic metres (653,975 cubic yards) of material, and it'll be approximately the same this year. We carried the material up to a third of a kilometre (0.5 miles) last year, and this year it will be a little shorter haul."
Crawler excavators load the Doosan articulated dump trucks before they transport the materials to another area of the development. In addition to the excavators and trucks, Clarke says the company has several dozers on the jobsite and a harrow with disks that's used to help dry the material more quickly, if necessary.
Safety on the jobsite is paramount for Aquilini Development Group, and jobsite superintendent Mike Zsombor, who oversees the daily construction development, leads the way to ensure operators are following the proper procedures. "Mike takes our operators through a general overview of the trucks," says Clarke. "They have what they call 'tailgate meetings' every morning to discuss how they're going to go about working ... not just the truck drivers, but the excavator operators too. They talk about where they're working and where they're hauling material to."
One aspect of the Doosan ADTs that Zsombor appreciates is the short turning radius.
Clarke says that even though you might think there's ample room to turn around on a large site like this, you'd be surprised. "We try only to drive in certain areas at any given time, and also try to shorten up the haul. The quicker we can get turned around, the better off we are. Every site is different, but this particular site, the tight turning radius is critical."
If the weather cooperates, the company hopes to work into fall again this year and finish the dirt work at Phase 2 of Tsawwassen Shores. From there the company will eventually proceed with construction of the single-family and multi-family homes.
---
Article and picture originally published from Heavy Equipment Guide: http://www.heavyequipmentguide.ca/article/26785/articulated-trucks-critical-to-keep-a-major-project-on-schedule