Bobcat MT100 Key Features and Specifications
February 9, 2023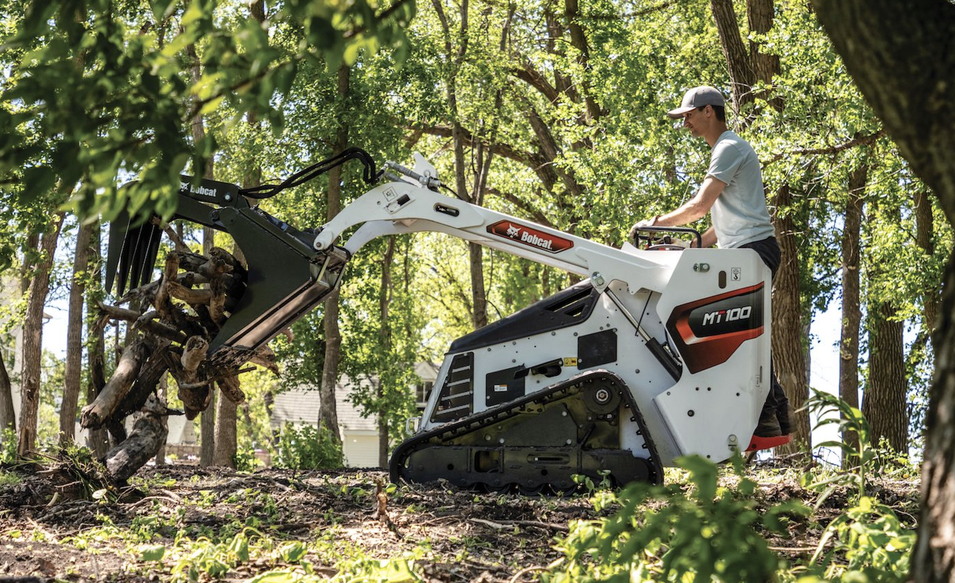 Get through tight spaces and perform top grade work with the new Bobcat MT100 Mini Track Loader. This track loader boasts stronger lifting ability and increased efficiency over the previous model (MT85). The Bobcat MT100 would be perfect for any landscaping, building and agricultural applications or any other situation you may need a compact and capable machine.
Everything You Need in a Compact Body
With a compact body, the MT100 allows you to navigate tight spaces with a small body and tight turning radius with minimal ground disturbance. With a width of 36 inches (41 inches with larger tracks) you can travel through doorways, gates and other narrow spaces with ease operating from the standing controls in the rear. Additionally with a height of just under 55 inches and length of only 106 inches with the bucket attached, the machine provides incredible versatility with its small size and capable design. This is perfect for any tasks that requires you to navigate through compact areas like demolition jobs, indoor spaces or around livestock.
Get Greater Lifting Capability from A Compact Machine
With the previous model (MT85) being able to lift up to 850 lbs, the MT100 increases the maximum rated operating capacity by nearly 18% to a capable 1,000 lbs. This increase improves efficiency allowing you to carry more in just one trip, reducing the time needed for jobs like rubble clearing on site or earthmoving as well as the amount of fuel required. The MT100 can lift to 80.9 inches height which gives the MT100 greater ability all round for moving loads to and from elevated places.
Feature Packed and Ready for the Task
Driven by a reliable and efficient Tier 4 diesel-powered engine, this track loader can go for miles. With 24.8 horsepower the MT100 holds excellent pushing ability for its size and can easily tackle heavy loads. Controls are comfortable with the ISO joystick controls that are ergonomically designed for easy operation and reduced fatigue from prolonged use.
With tool free access its easy to complete any maintenance you may need to over time. The coolant, fuel, oil and more can all be accessed by simply lifting the hood! The new durable undercarriage requires no regular maintenance so you can operate with peace of mind and know your machine is protected to stay in good condition. See below the key operational specs for the MT100:
Key Machine Specifications:
Operating Weight: 3,390 lbs.
Engine: Tier 4 Diesel (24.8 hp, 7 gallons)
Lifting Capability: 1,000 lbs.
Dimensions: 54.6 x 106.2 x 35.6 Inches (HxLxW)
Lift Height: 80.9 Inches
Auxiliary Hydraulic Flow: 12 GPM
Travel Speed: 6.6 Kmp/h
Get More out of Your Machine with Alternative Options & Attachments
You can pick from two different track sizes depending on your needs for the perfect balance of comfort and capability when operating over different ground surfaces or conditions. The narrower track option gives the machine a 35.6-inch width while the larger increases the width to 41.1 inches.
Make use of numerous attachments from the Bobcat Bob-Tach platform to help with any grading, lifting, digging, or hauling of materials. From pallet forks to log grapples there's an attachment for your needs and with the Bob-Tach system, there's minimal time delay between changing attachments. Only need an attachment for a short period? Why not check out renting attachments with Westerra Equipment.
Do More While Saving More
Ready for the upgrade? Get the MT100 on offer from Westerra Equipment with deals such as rebates, 0% financing and more. Shop with Westerra Equipment and earn GRIT rewards points that can save you on any future maintenance or other services too!
Want to find out more?
Contact us at 1-(888)-713-4748 or alternatively use the button below to contact us online and we'll get back to you as soon as we can!