Bobcat E10e Electric Mini Excavator Features
November 29, 2022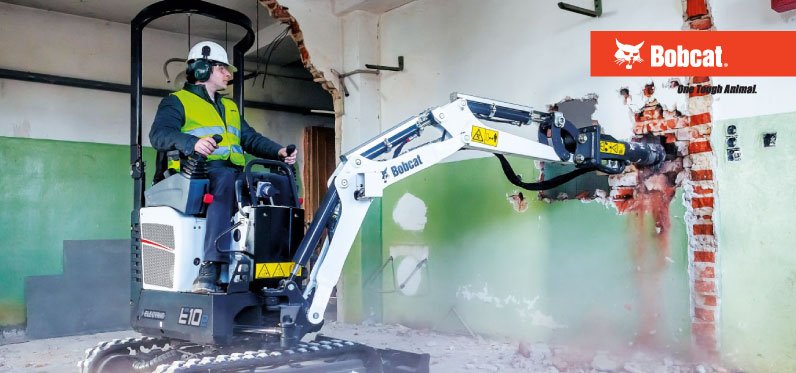 Are you ready to lessen your carbon footprint in your daily operations, and go electric with a mini excavator? Bobcat is launching their first electric mini excavator in 2023. And here are a couple of things you should know about this machine.
When to use an electric excavator?
Electric machinery is on the rise. As more industry leaders join in on providing environmentally friendly alternatives, we see the technology advancing with every new launch. Following the launch of their electric compact track loaders, Bobcat is back with an all new E10e electric mini excavator. But what are some applications that this machine would be best in?
Maintaining an impressive performance, comparable to its diesel counterpart, the E10e is ideal in:
Indoor applications
Commercial construction
Plumbing jobs
Electrical jobs
It excels in noise and emission sensitive worksites, and user friendly thanks to its familiar operator design.
---
Performance
Built with a state-of-the-art Lithium-Ion powertrain battery, the E10e offers a constant power curve that allows it to perform comparatively to its E10z diesel counterpart.
Optimized to match typical work patterns, customer studies report that the E10e can work up to four hours on one charge. By charging the machine during operator breaks, you can utilize the machine for a full work day. The battery can be charged up to 80% of capacity in about an hour using its optional external 400V supercharger. Otherwise, it can be charged overnight with a on-board charger from a standard 230V grid.
Easily maneuver through tight space and standard doors with its 710 mm minimum width. Compatible with all of E10z existing attachments, the E10e is adaptable to many job applications. Enjoy the same benefits of the diesel machine including Zero Tail Swing (ZTS) functionality and extra oil cooler which gives full-time use of the breaker. And get new performance features such as the thermal management system which widens the battery's temperature operation window.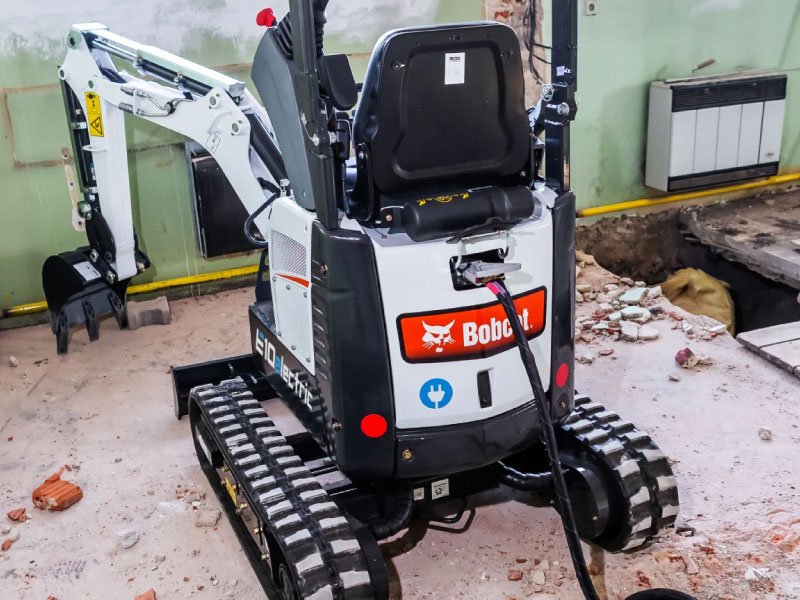 ---
Comfort
In addition to the operator comfort features of its diesel version, the E10e has been upgraded with unique features.
Features consistent with diesel version:
Unique-in-class joystick control for swing and workgroup
Variable position joystick (same operating position as in a big MX)
Electronically activated track expansion
2-speed travel
LED light
New features unique to electric model:
Smart Graphic Display (show the RPM, motor hours, battery capacity, temperature warning, 2-speed, and error codes)
Throttle dial
On-board charger for standard 230V grid
Auto idle
---
Durability
When you purchase Bobcat, you get hard working, durable, and reliable machines. The E10e is no exception. It comes equipped with:
Rear tailgate protected by casted counterweights
Metal covers can be opened or bolted on
Proven boom and dipper-stick design
Top-mounted boom cylinder
Arm and bucket cylinder covers
All design features, new (battery, controller, convertors, etc.) and preceding, have been tested under extreme conditions to ensure the best uptime. Rest assured that the electric powertrain system can handle harsh construction equipment environments.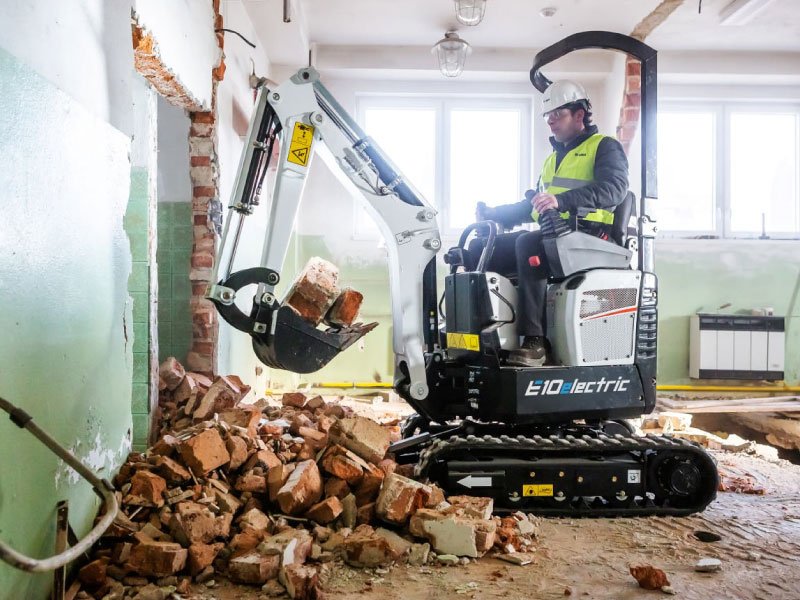 ---
E10e Electric Excavator Specs
| | |
| --- | --- |
| Operating weight | 1201 kg |
| Digging depth | 1.8 m |
| Engine power | 7.5 kW |
| Digging breakout force | 5.6 kN |
| Tail swing type | ZHS |
Ready to go electric? 
Talk to our sales representatives about the launch of the Bobcat E10e electric mini excavator today.