A Quick Guide to Narrow Aisle Forklifts for Warehousing Application
July 18, 2022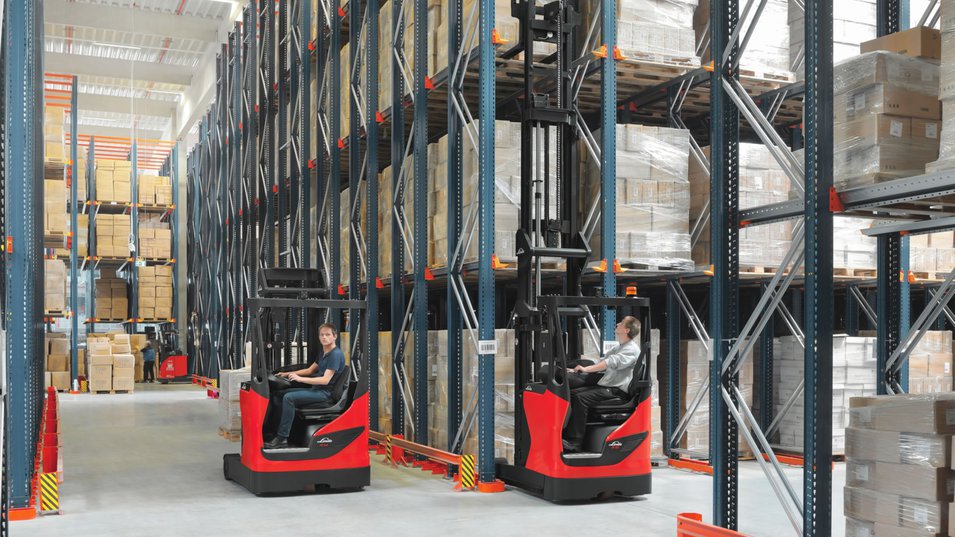 Benefits and Applications of Narrow Aisle Forklifts
Rising e-commerce has transformed the warehousing industry and placed a premium on the storage space. If you operate a warehouse or a distribution center, you may be constantly looking for ways to store more in the limited space and move faster to fulfill the customer demand and deliver on time. Narrow aisle forklifts are helping warehouses increase storage capacity and navigate tight spaces in your warehouse without compromising on safety and productivity. They have been designed specifically for warehousing application and hence offer substantial benefits over the regular forklifts.
In this article, we will break down the benefits, types, and key features of narrow aisle forklifts to help you gauge if it is the right solution for your needs.
What is a Narrow Aisle Forklift?
Narrow Aisle forklifts are forklifts specifically designed to move materials in narrow aisles of 10 ½ feet or less. Some very narrow aisle forklifts can get the job done in aisles as narrow as 5 feet. Depending on the needs, you can select from different types of narrow aisle forklifts including reach trucks, order pickers, and turret trucks. We will cover the details of each type later in this article.
Below are some of the common features of a narrow aisle forklift that make them highly suited for warehousing applications:
Narrow aisle forklifts offer lift height of 300 inches to 450 inches. Some very narrow aisle forklifts can lift as high as 670 inches, like the Linde very narrow aisle K truck models.
Lifting capacities range from 3,000 lbs to 6,000 lbs.
Narrow aisle forklifts can navigate a width of 8 ½ feet to 10 ½ feet, while very narrow aisle forklifts can navigate aisle widths of 5 feet to 7 feet.
Narrow Aisle forklifts can achieve travel speeds as high as 14 km/h
Most of the narrow aisle forklifts are electric. Depending on the model and its lift capacity, narrow aisle forklifts are powered by batteries ranging from 24 volts to 80 volts.
The video below shows how the K man-up turret truck from Linde Material Handling enables high turnaround capacity for order picking and handling processes in high rack warehouses.
What are the Benefits of Narrow Aisle Forklifts?
As a warehouse manager or owner, if you are finding it tough to keep up with the rising demand or facing labor shortages, narrow aisle forklifts could be your answer. Redesigning the warehouse space to increase storage density by reducing the aisle space has proven to give high ROI. Since the narrow aisle forklifts are specifically designed for warehousing operations, they significantly boost productivity and safety. Below are some of the key benefits that you should consider while choosing between narrow aisle forklifts and regular forklifts.
Narrow aisle forklifts are tailor-made to reach high racks in warehouses. In the last decade, the number of reach trucks with mast heights over eight meters has increased considerably and even heights of 13 meters are no longer a rarity. This allows you to expand your storage space upwards, rather than laterally. Further, you reduce the width of the aisles and add more storage rows in your warehouse to increase overall storage capacity. You can store more per square foot and utilize your warehouse space in the most optimized manner with the narrow aisle forklifts.
Today's narrow aisle material handling equipment are designed to overcome safety challenges that come with moving materials in very tight spaces. Various assistance systems are available with the equipment that help to navigate accurately through a warehouse or avoid obstacles.
One of the biggest challenges with narrow aisle, high racking set ups is the lack of visibility for the operators. Linde reach trucks, for example, ensure drivers have an optimal panoramic view thanks to components that optimize visibility. Additional equipment, such as a shoulder guard reduces the risk of accidents in confined spaces. For handling situations where visibility is very poor, there is also the option of using a mast camera.
Increased operator comfort
In a warehouse operation, moving materials is not a one-off task. It is a repetitive, continuous process that needs to be performed with agility and accuracy. It can put tremendous strain on the operators, especially when they must move material in and out of very high racks. Narrow aisle forklifts can make a difference and substantially improve operator comfort in such a set-up. They are designed with a focus on ergonomic requirements. The cabin components can even be individually adjusted to the driver, like in the case of the Linde reach trucks. Linde narrow aisle forklifts offer a vibration-free driver's workstation that ensures fatigue-free working.
Narrow aisle forklifts offer high maneuverability even in the most limited spaces. They are capable of moving material in a narrow aisle while ensuring safety at high travel speeds, and high throughput rates. Linde offers safety functions, such as automatic speed adjustment around bends, or assistance functions, such as side shifter centering or horizontal fork adjustment, to help the driver achieve fast work cycles.
Get more done in less time at your warehouse with the narrow aisle forklifts which come equipped with numerous assistance systems to help drivers handle loads quickly, even at height.
Some of Linde's very narrow aisle forklifts include powerful drive and lift engines that enable the forklift to move off and lift at the same time so that the required location in the racking is reached quickly. Narrow aisle forklifts have unique construction which allows them to offer stability and safety even at high lift heights.
Types of Narrow Aisle Forklifts
Narrow aisle forklifts fall under Class II classification by OSHA and mainly consists of the following three types:
---
---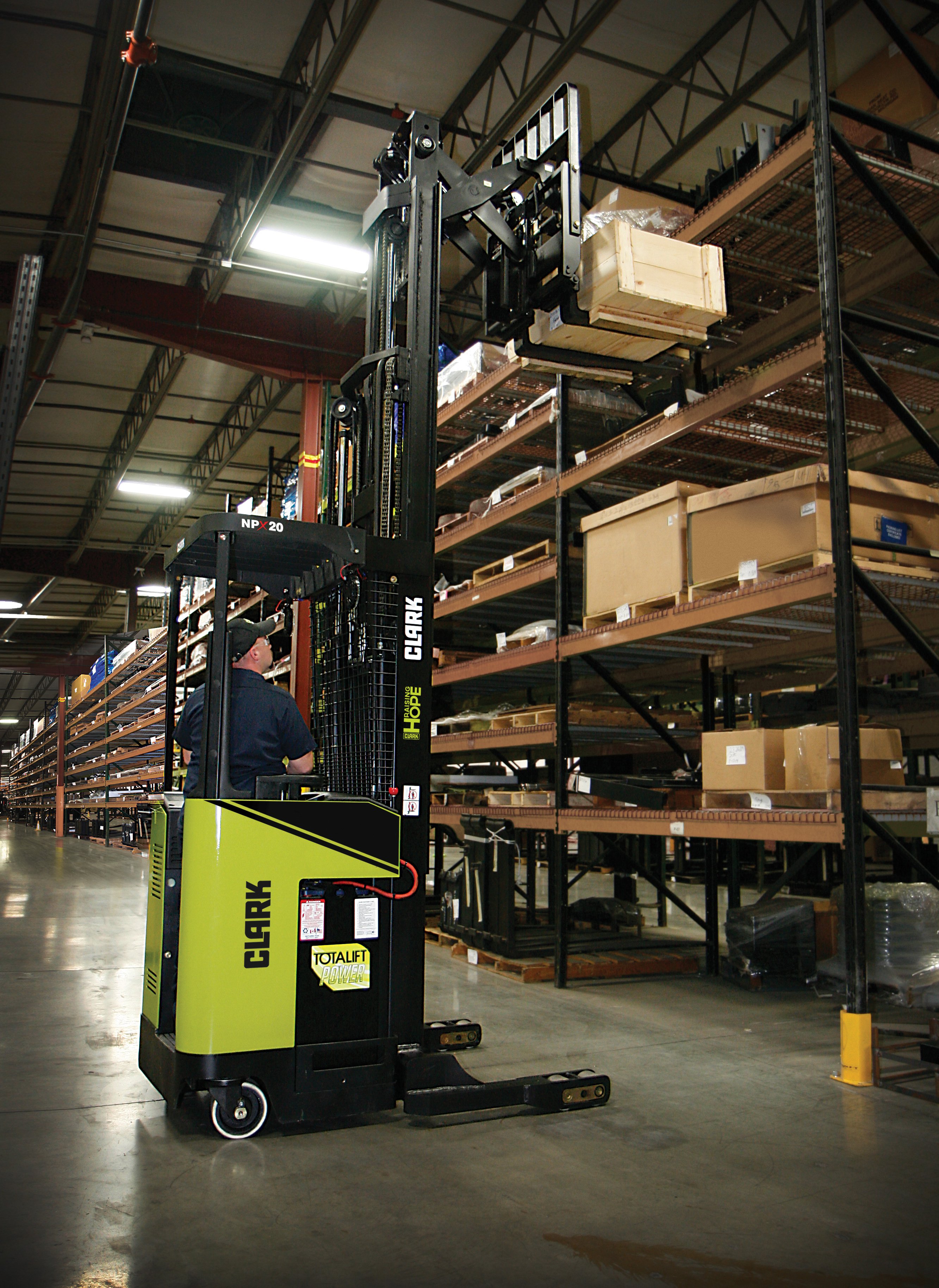 Eletctric Reach Truck
Reach trucks are the most common type of narrow aisle forklifts that are used to move pallets into high racks. These are often characterised by long mast heights, compact design, and optimal all-around visibility for operator safety. Among all the narrow aisle forklifts, this type can handle the highest load capacity of up to 6000 lbs.
---
Electric Order Pickers
Order pickers are the most unique narrow aisle forklifts which are used specifically for order fulfillment. Operators ride on a platform that is raised and lowered to the desired rack level and help the operator "Pick" the desired order. Since the operator also moves up and down with the mast, operator safety and ergonomics are key to selecting an order picker. That's why Linde Material Handling uses trucks with a modular design for its picking devices, to help to minimize physical strain on the driver and increase the efficiency of the picking process in any working environment.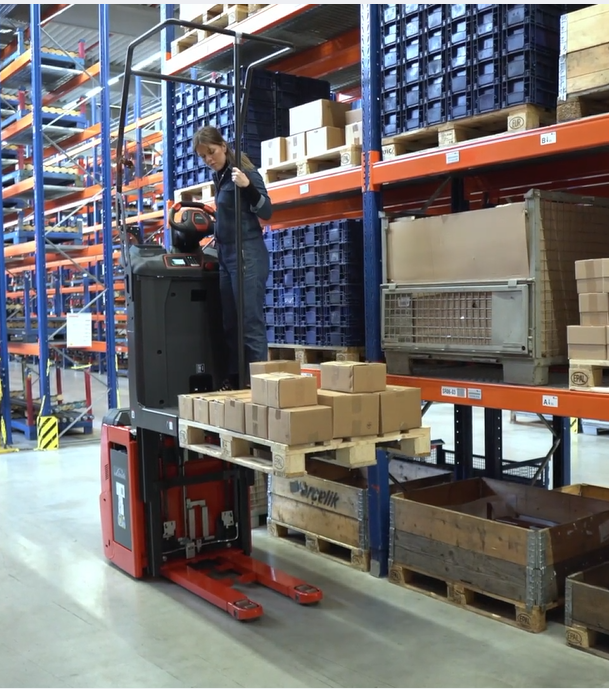 ---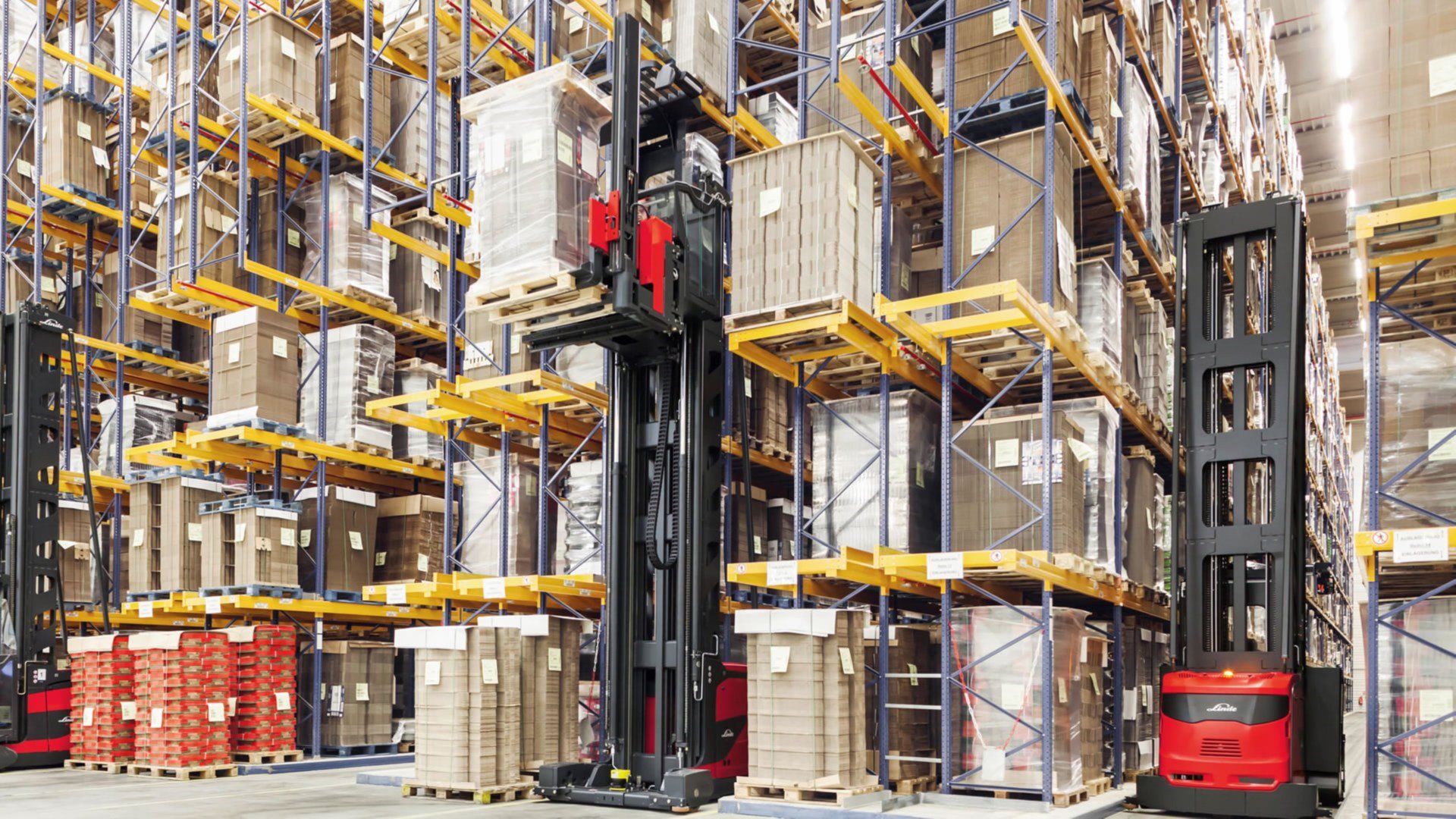 Very Narrow Aisle Forklifts
Very narrow aisle forklifts are also known as turret trucks as they come with an articulating design allowing the forks to be rotated by 180 degrees. You can easily move pallets on both sides of the aisle without the need for turning the equipment. As a result, very narrow aisle forklifts require minimal space for operating and can help you tremendously increase storage capacity at your warehouse.
Speak with one of our equipment specialists to learn more about our very narrow aisle forklift offering.
Conclusion
Narrow aisle forklifts are helping the warehousing industry maximize storage space while improving the efficiency and safety of their operations. These specialized pieces of equipment can make a huge impact on your bottom-line. Start exploring the narrow aisle forklift solutions today to get ahead of the competition and overcome the ongoing labor shortages. Our team of equipment specialists can help you transform your warehousing operation with the best material handling solutions for your needs.