5 Versatile Attachments for your Skid Steer Loader
April 3, 2020 | Blog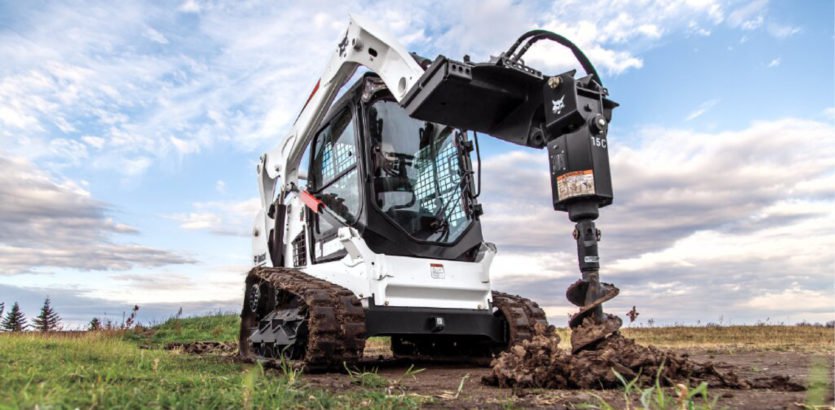 With a lower cost of ownership and lower operating costs compared to other compact equipment, skid steer loaders are one of the most cost-effective and versatile machines for your business. One of the biggest benefits of owning a skid steer loader is their compatibility with a wide range of attachments. Equipment attachments help you take on a variety of different projects and applications without the need for additional machines.
Do more with your skid steer loader with these 5 versatile equipment attachments:
The Auger

Great for digging holes for tree, footings and fences, augers have the precision and speed for your next project. Dig up to 6 feet, or more with extensions, with the auger.
Backhoe

Perform landscaping, light construction and excavation applications with a backhoe. The backhoe attachment allows you to grapple, dig and move materials with ease. With digging depths up to 11ft, backhoes can handle even the toughest excavation projects.
Trencher

Save time and money with the trencher. Take on even the most difficult types of soil with a trencher. The trencher attachment can dig trenches up to 5 feet deep and 12 inches wide.
Combination Bucket

The ultimate multi-tasker, the combination bucket is a 4-in-one attachment made to maximize your skid steer loader's performance. Use it as a bucket, grapple, and for dozing, leveling and spreading material.
Rake

Gather rocks and stick quickly with rakes. The rake attachment allows you to cut out, aerate and level soil when performing your next landscaping project.
At Westerra Equipment, we have equipment attachments for any next long term or short term project. Browse our range of new attachments, used attachments or attachment rentals for your skid steer loader.
Contact us today to learn more about our range of equipment attachments!