5 Maintenance Tips for Your Excavator
June 12, 2020 | Blog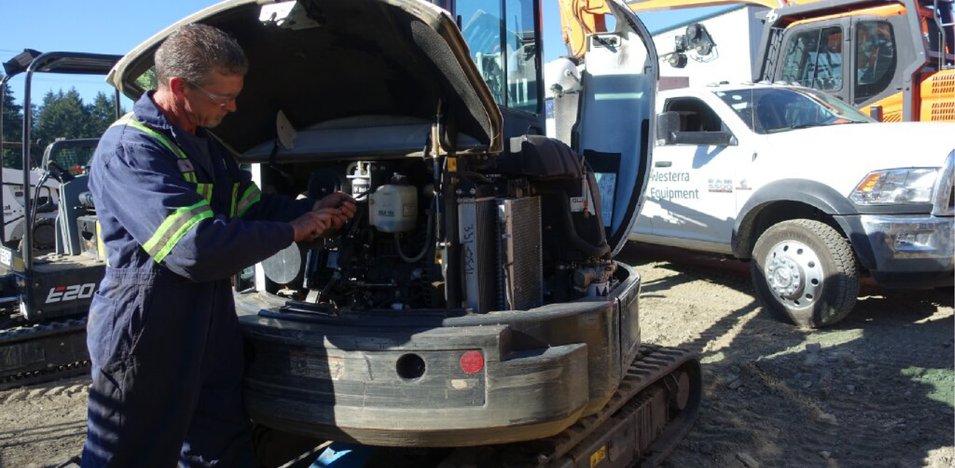 From heavy to compact, excavators are built to take on the roughest environments and perform your most difficult jobs. Operating in uneven terrain, dirt and mud and hauling large loads throughout the seasons, it is important to regularly maintain your excavator to prevent unexpected downtime and repair.
Here are 5 tips to keep your excavator in top working condition throughout the year:
Maintain and clean your undercarriage

Working in dirty, muddy terrains can cause undercarriage buildup. Clean your undercarriage routinely to remove dirt and debris, and prevent unnecessary wear to your excavator. When inspecting your undercarriage, look for damaged or missing pieces, and oil leaks.

Check your tracks

Check to see that your tracks have the right tension. Tracks that are too loose or too tight can result in excess wear to tracks, chains and sprockets.

Change out your air and fuel filters

While operating your excavator outdoors, debris can accumulate in your machine's air, fuel and hydraulic filters. Regularly cleaning and changing out your filters can help your excavator run its best for longer.

Monitor fluid levels

On a daily basis, check to see that all fluid levels are at their recommended levels. Check engine oil and hydraulic oil levels prior to operating your excavator to ensure it's working well throughout the day.

Drain water separator

As excavators sit outdoors overnight, condensation can often build up in the engine. To prevent corrosion from trapped water becoming steam, drain your water separator daily.
---
With service centres located across BC, our team of factory-trained service technicians are here to help you with your maintenance needs, wherever you are.
Reach out to your nearest location to book your next service appointment:
Westerra Equipment
Williams Machinery